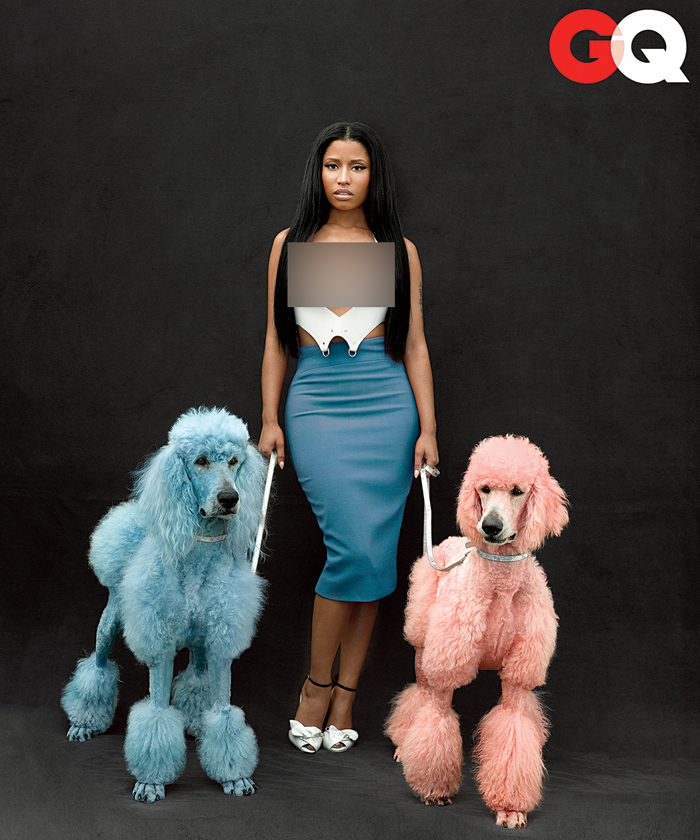 Nicki Minaj has a new interview with GQ to promote her upcoming album, The Pinkprint. All of the photos are about Nicki's rack, and they show everything but the nip. She posed with poodles that have been dip-dyed in pastel shades. Maybe the colored poodles are a bit of photoshop trickery? One can only hope, but Nicki isn't afraid of any sort of controversy. She knows that dyeing a dog's fur will grab some attention.
This interview is bizarre. Not a lot happens because Nicki keeps falling asleep. The journo says she snoozes not once but four times. Four! The interview took place during NYFW, so maybe Nicki was partying all night. The journo clarifies that Nicki probably "never fell into actual REM sleep," but she repeatedly nodded off during their talk. For real. This seems so rude. Nicki keeps saying that she's super stressed and suffered a mysterious medical emergency last year. Maybe she's simply exhausted. Nicki chose to play dumb about her "Anaconda" song and video. She says the video is not about tushes. At all:
She was fired from her first jobs: "I like dealing with people, but I don't really like a lot of bullsh-t, so maybe customer service wasn't the best job for me." She was fired from a waitressing job at a Red Lobster after she followed a couple who had taken her pen into the parking lot and then flipped them the bird. I asked her if it was a special pen. "No. It was the principle."

Her new "natural" look: "I always thought that by the time I put out a third album, I would want to come back to natural hair and natural makeup. I thought, I will shock the world again and just be more toned down. I thought that would be more shocking than to keep on doing exactly what they had already seen."

The meaning of "Anaconda": "The female form?" No, she says, it's just a song, there's no hidden meaning. "She"–Nicki's character in the video–"is just talking about two guys that she dated in the past and what they're good at and what they bought her and what they said to her. It's just cheeky, like a funny story." But "Anaconda" samples a song that's literally called "Baby Got Back." Choreography points to it. Nicki shakes her head: "All it says is, 'My anaconda don't.'" Why are we talking about a**es? she seems to be saying. "I knew that I wanted a gym theme." Shrug. "And that's that."

What the video is really about: "I don't know what there is to really talk about. I'm being serious. I just see the video as being a normal video. I think the video is about what girls do. Girls love being with other girls, and when you go back to us being younger, we would have slumber parties and we'd be dancing with our friends."

She rethinks the vid after a nap: "I'm chopping up the banana. Did you realize that? At first I'm being sexual with the banana, and then it's like, 'Ha-ha, no.'" I ask if she's referring to how the Drake scene immediately follows the kitchen scene. "Yeah, that was important for us to show in the kitchen scene, because it's always about the female taking back the power, and if you want to be flirty and funny that's fine, but always keeping the power and the control in everything."
[From GQ]
Nicki's full of it. "Anaconda" is totally about booties. The whole video? Butts. The lyrics? Butts. She makes fun of "skinny bitches" without butts. Nicki's fooling no one with this slumber party/gym theme nonsense.
I still can't believe Nicki fell asleep so many times during this interview. Nicki isn't the first person to do this though. Cara Delevingne slept through a Vogue discussion a few months ago. Peaches Geldof took a power nap next to Fearne Cotton in 2009. But Nicki takes the prize here.
Related: Singer Macy Gray resurfaced for an Oprah talk. Gray was big for a brief moment in time around 2000. Gray says she always wore sunglasses during interviews because she was on drugs. Journos thought she was simply being "intense" when she didn't answer every question. The truth? She often fell asleep during interviews. That's terrifying. I hope this isn't what's going on with Nicki.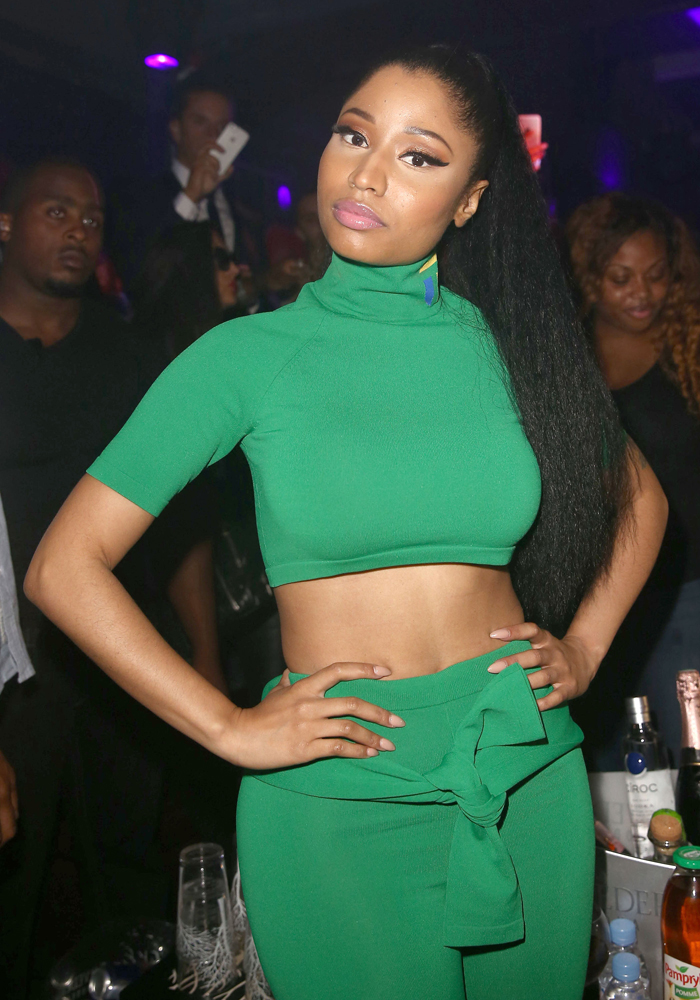 Photos courtesy of GQ, Fame/Flynet & WENN
Read the rest here:
Nicki Minaj dozed off 4 times during her GQ interview: rude?