I cannot even begin to tell you the flurry of sighs, squeals and starter slash-fiction this Benedict Cumberbatch interview just provided amongst me, CB and Bedhead. Cumby gave a phone interview to Vulture about his Emmy nomination for Parade's End. You can really feel his excitement about the nomination, and really, he's just the most adorable chatterbox in general. But then he just goes full-on fan-boy about Matt Damon (they're up against each other in the same Emmy category), and even CB approves. Also: HAPPY BIRTHDAY CUMBY. He turns 37 years old today. Here are some lovely highlights from Vulture:
Cumby is officiating his first wedding… a gay wedding! "It's a very private, lovely thing to be asked to do. Of course, I'm going to make a joke after it, 'I do weddings. Next will be children's parties and bat mitzvahs,' if it goes well. It's a mainly Jewish and gay audience, so hopefully they will be lenient towards me."

Cumby on needing to inform everyone about his Emmy nom: "Well, exactly! My friend doesn't even know this. I've been so busy trying to get luggage from one airport to another, I haven't even gotten around to telling him. I've got to call him! He's the next one to call. [Laughs.] I managed to tell my mum [Wanda Ventham] and dad [Timothy Carlton], who are over the moon, thrilled. My dad actually was in Parade's End."

Shooting in a hurricane: "[My dad] was the Westershire, the Duke of Westershire, the uncle. There's a very funny scene where we're having this picnic, and you cannot really quite tell what hurricane conditions we were acting in, because we just managed to steal a few shots between gale force winds ripping off wigs, costumes, and hats, jellies flying off the table like solidified food. It was hysterically funny. And yeah, dad's in that scene, and a couple of other scenes as well. It was pretty wonderful. I liked sharing screen time with him, and just have a day at work with him. It was a very special moment. And my dad has another connection to this: He used to date, a long time ago, he used to date Toby Jones's mum [Jennifer Heslewood]! Before Toby or his brother Rupert any of his family were a gleam in Freddie and Jenny's eyes — a long time ago, when they were young."

His fellow nominees: "I saw Toby's career take off! I'd see him do one-man shows at Battersea, and then I just saw how brilliant he was in The Play What I Wrote, his whole career trajectory, to the s–ts and giggles of just being opposite each other on a plane going to the Golden Globes and now probably to the Emmys as well! It's just very exciting being nominated in the same category. We adore each other. I love his wife and his two children. I just adore his two daughters. They're very special… So we've been supporting each other and been friends for a long time, and we worked together at least twice, Creation and Tinker Tailor Soldier Spy. So for both of us to be in that category at the Emmys, with people who I've been inspired by for ages, [Al] Pacino, [Michael] Douglas, and in my generation, Matt Damon, who's a huge hero of mine, I'm beyond words. I'm bowled over by it, I really am. I'm so, so thrilled. What a great early birthday present!"

He LOVES Matt Damon: "Well, he's just so grounded. He's so intelligent. He makes these smart choices, as an actor, as a producer, as a writer. He's so composed. You never hear a bad word said about him. Everybody loves him. And he just sounds like he's got his priorities right as a human being, and as an actor, he's phenomenal. What a screen presence. I saw Promised Land on the way to New Zealand where I was doing some more work on Smaug, the dragon in The Hobbit, and it was again, another superlative performance, the writing with John Krasinski, and just a great, great drama, setting up those arguments about the future of small-town America, and really, all small communities across the world, the crisis they face about money and income versus environmental concerns and community. It was a peaceful way of tackling it. The minute Matt and Ben [Affleck] appeared on the scene with Good Will Hunting, you knew it was a special moment. To see such young talent take the reins and create the means of work as well as star in it, and just do every one of their jobs at every level superlatively, it was very exciting. I think he's great. My biggest wish is to hang out with him!"

He wants a "guys' night" at the Emmys: "Yeah! I just want to get in a room with these guys and have conversations with them. I don't know what I'd say to them. I'd be a bit star struck [around Pacino and Douglas], but at least with Matt, I can kind of quiz him. And then cut to a hot night where we're all getting drunk and dancing and having a good time! Maybe it'll have to be on another occasion, but wouldn't that be cool, though? I would like to go out with that group full stop, wouldn't you? That would be a fun dinner party. I think that would be great fun."

On the idea of working with Matt Damon: "You're saying that like you can facilitate it. Do you have Matt's number? Can you pass along a message, and tell him that Benedict is a big fan and would like to hang? That would be brilliant."

Possibly getting Matt to guest star on Sherlock: "You know what? There's a part I would have loved for him to play in the third episode. He would have been amazing. But we need someone slightly older. I just got the script, and it's another early birthday present, because it is amazing. I don't want to hype it too much, because we haven't made it yet, but what a script! Steven Moffat is brilliant. I come back from Ibiza to prep for it, and so we shoot in about a week and a half's time. We shot the first two already, and then we had to break for Martin [Freeman] to do some pickups and things for The Hobbit, and for myself to do some Smaug-ing. That's all done now. So we're on Sherlock for four weeks, into early September. So it's a good time, I tell you. It's a very, very exciting time to be me. I'm really lucky. I think the plane might be taking off without me, so I have to go!"
How cute is this? I mean, seriously. Even the jelly h8rs who are always yelling "He looks like a lizard alien!!" have to admit that he's adorable and dorky in this interview. "Can you pass along a message, and tell him that Benedict is a big fan and would like to hang? That would be brilliant." COME ON. That's so cute. And then there's this: "And then cut to a hot night where we're all getting drunk and dancing and having a good time!" Cumby wants a hot night of dancing with Matt Damon. There it is. Enjoy the next year of Cumby-Damon slash fiction, y'all.
By the way, Benedict Cumberbatch did not appear at Comic-Con's Sherlock panel yesterday, but he and Martin Freeman did a video for the panel, and it is lovely. Martin is always rather cute, but I flat-out loved Cumby's part. It's hilarious!!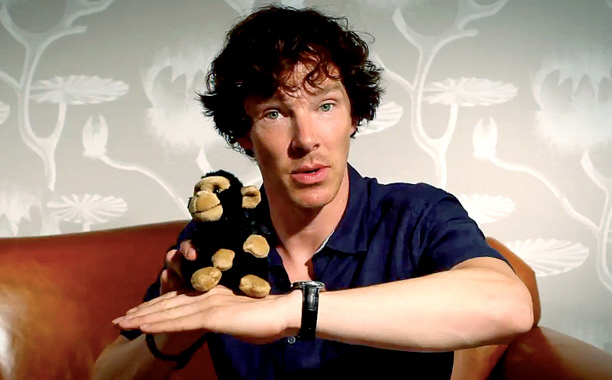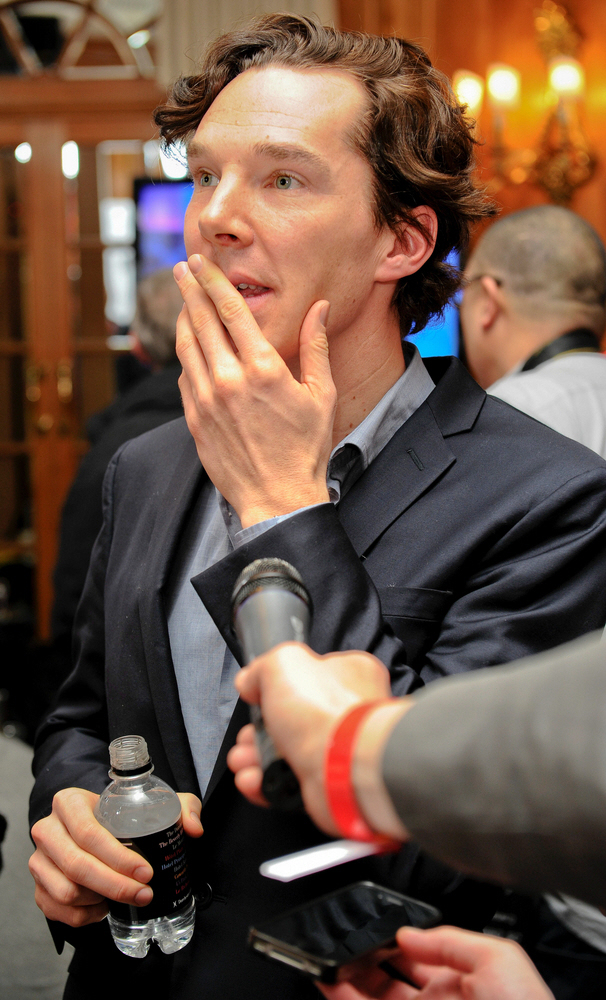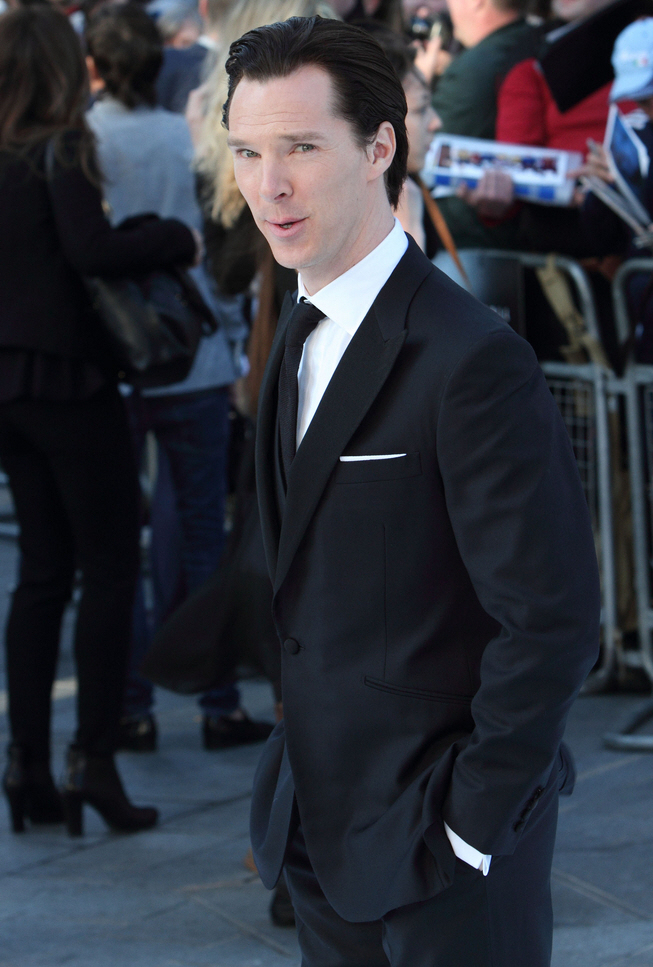 Photos courtesy of EW, PR Photos and WENN.
Read more:
Benedict Cumberbatch loves & adores Matt Damon: 'He's a huge hero of mine'