Jennifer Lawrence's cover interview for the November issue of Vanity Fair has given me whiplash. That's the nature of this particular beast. Part of the discussion included JLaw's reaction to her stolen photos. She nailed it with her furious yet measured message to the hackers and people who looked at her photos.
Then Vanity Fair started to release quotes from the main interview. JLaw dove into dangerous territory by claiming to "worship" Woody Allen. She bashed gluten-free diets. Some people saw this as Goop shade. Is JLaw really that calculating? I don't think she thinks that far ahead when speaking. Words simply spill out of her mouth. She's always been obsessed with junk food and carbs. But maybe JLaw unconsciously dropped some shade on the woman who is still married to her boyfriend. Hollywood Life says Goop thinks JLaw's comments are "ignorant," for what it's worth.
Anyway. Vanity Fair has released a behind-the-scenes video of JLaw's interview. They're parceling this stuff out, as they should. JLaw is big business for mags. This video is interesting because Jennifer has gone fully "nitro." I sense that she's nervous about jumping into a grueling new press circuit. She's very aware of the ongoing backlash that follows her. Most of the time, JLaw disappears in between tours. This time, we're fresh off the Martin Lawrence gossip. She's worried, and it shows in the video. Jennifer answers a series of questions, and she's pretty spazzy. Yes, "pointless gossip" and junk food comes up:
What scares her? "Spiders. I'm very afraid of spiders. And ghosts. I wouldn't say I'm as afraid of ghosts as I am paranoid of ghosts."

Her junk food weakness: "Well, Cool Ranch Doritos are my girl. I've been trying to wean myself off of Cool Ranch Doritos and move onto Pirate's Booty. It's just not doing the trick … Cheez-Its."

Is she tempted to use social media? "Nooo. Tempted? I have 112 unread emails right now. You know, I'm so not tempted to become more accessible. I don't want anyone to talk to me, ever."

Does she want to direct? "I've always wanted to produce because I remember reading these incredible scripts that would never see the light of day. Then I'd drive through Westwood and see some of the crap that was coming out, and I was like 'What is going on with the world?' So I've always wanted to produce, and Glass Castle being my first project was so perfect because I was so moved by that book."

Who did she admire as a kid? "Destiny's Child was my first CD. Uh, TLC. I met Jay Z and I was so embarrassed because you could see my knees bouncing up and down. He was like, 'Are you okay?' I was like, "Yeaahh. Huh huh. Bye. Aaaahah.' They're king and queen of America! Or of music. And then Brad and Angelina are the king and queen of movies. At least I think"

The last show she binge-watched: "Well, the Kardashians were just in Thailand so that was a pretty big deal. I'm catching up on all the Real Housewives of Beverly Hills … I'm trying to stay up to speed on all the pointless gossip that goes on in Hollywood. [Laughs.] I haven't watched the news."
[From Vanity Fair]
Jennifer seems a little vapid here, but you know I'd still eat pizza with her. She gets a lot of criticism for constantly talking about bodily functions and dreaming about cake, but I still like her. What I don't get is the obsession with Cool Ranch. When I visualized the Doritos dust that ruined the American Hustle costumes, I was thinking of the Jacked Spice Street Taco flavor. Not something bland like Cool Ranch.
FYI: Nick Hoult spoke out about the stolen pics. He said, "It's shocking that things like that happen in the world. It's a shame." Oh, and apparently JLaw & Nick will film a sex scene for X-Men: Apocalpse. That should be interesting if he's really dating Kristen Stewart. JLaw, of course, is still with the king of elevator music.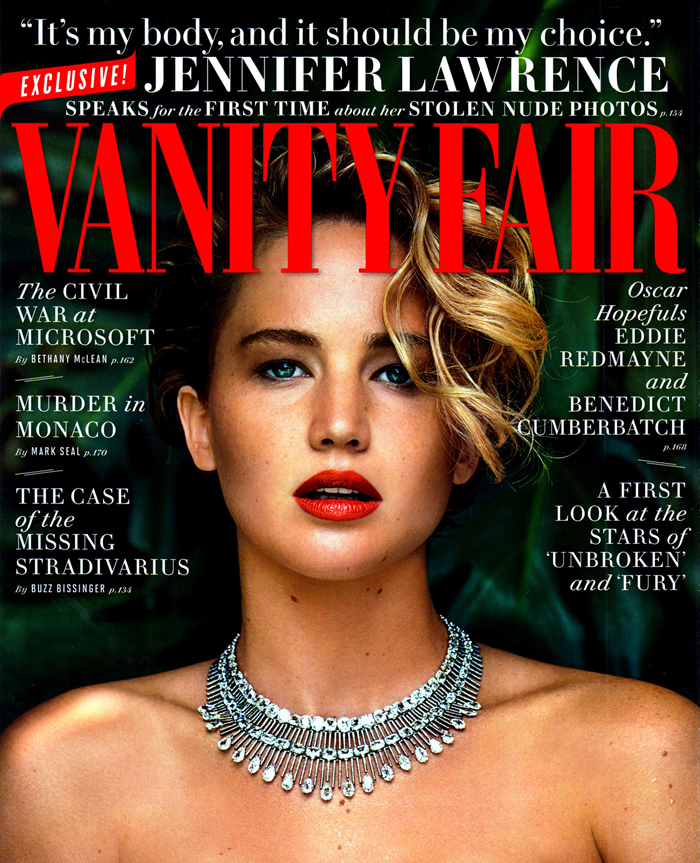 Photos courtesy of Fame/Flynet & Vanity Fair
Visit link:
Jennifer Lawrence whips out her 'nitro': 'Cool Ranch Doritos are my girl'