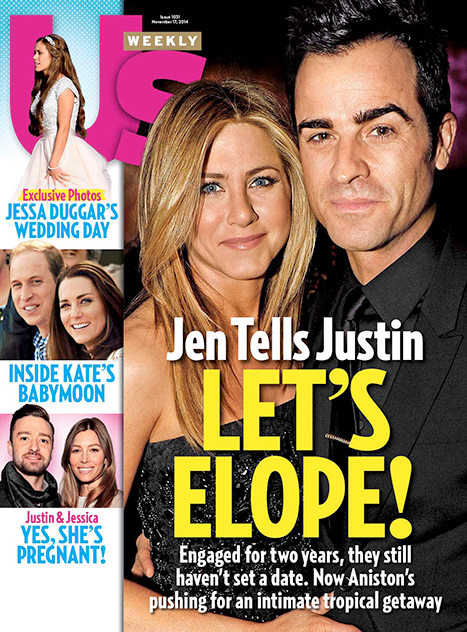 Jennifer Aniston has more money than God. She gets richer by the year, especially with her endorsement/profit-sharing deals with Living Proof, Aveeno and SmartWater. She still collects good paychecks for movies like Horrible Bosses 2. Beyond the money stuff, Jennifer has her health, she has a good and loyal hairstylist, she has a closet full of little black dresses and the renovations on her Bel Air mansion are finally done. Everything in her life seems good-to-decent. So why are we still pulling out our hair and being forced to think of her in "poor Aniston" terms? Poor Aniston, can't get a man. Poor Aniston, when she does get a man, he loves skinny jeans and guyliner. Poor Aniston, Guyliner McEyebrows won't even marry her, even after he gave her a giant, cloudy quartz. Poor Aniston! Anyway, this week's Us Weekly is all about poor Aniston and her attempts to set the date with Guyliner Theroux.
Jennifer Aniston, 45, could soon be a blushing bride — or not! Those close to her and her fiancé Justin Theroux, 43, are on the proverbial edge of their seats waiting for their wedding invites — because the truth is, those save the dates could come at any time. The couple are planning a surprise wedding, a la another infamous couple!

Jennifer and Justin got engaged over two years ago, but many are starting to wonder if have they have any intention at all of walking down the aisle and sealing the deal as man and wife. While the couple continues to remain mum on their plans, friends close the couple are fairly sure they're looking to throw an impromptu ceremony, according to Us Weekly. Sources close to Jen say that her friends are "in the dark" about the big day, but are planning to be ready at a moment's notice. Apparently. her guests will "want to be prepared" as Jen and Justin could very likely throw a surprise wedding for their closest friends and family at a moment's notice.

It would be a real twist of fate if Jennifer and Justin opt for surprise affair, since Jen's famous ex, Brad Pitt, 50, just married Angelina Jolie, 39, back in August in a super secret ceremony. At the time, as HollywoodLife.com EXCLUSIVELY reported, Jen was "upset" after the Brangelina wedding overshadowed her surprise Friends reunion on Jimmy Kimmel Live — but perhaps seeing how well their nuptials turn out for them has warmed her up to the idea.
How many times have we heard variations of this "maybe they'll just go somewhere and elope" story in the past two years? Personally, I think Jennifer just wants to get married and she doesn't care how it happens. She would marry him on a beach in Cabo. She would marry him in the living room of the Bel Air mansion. She would go to New York (where he basically lives most of the time now) and marry him at City Hall. Justin is the one gumming up the works. Dude, you gave her the quartz!! Just marry her, for goodness sake. Poor Aniston.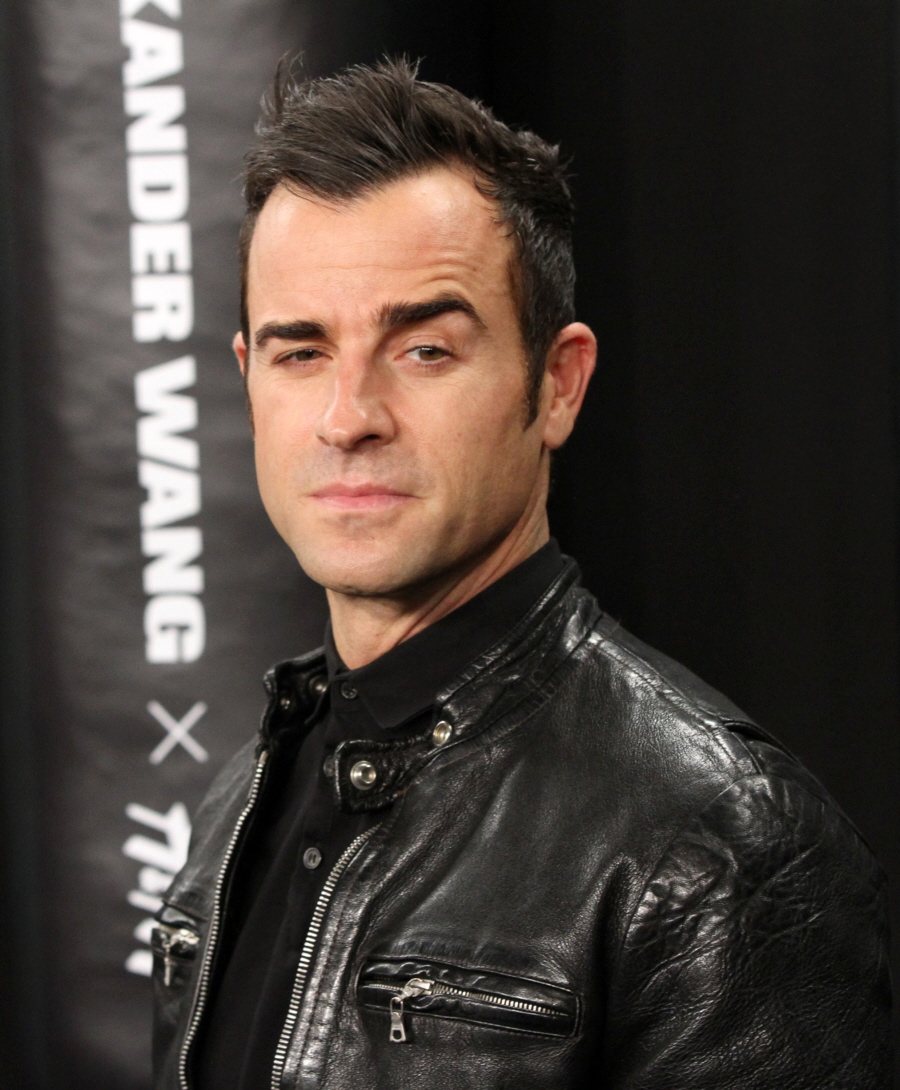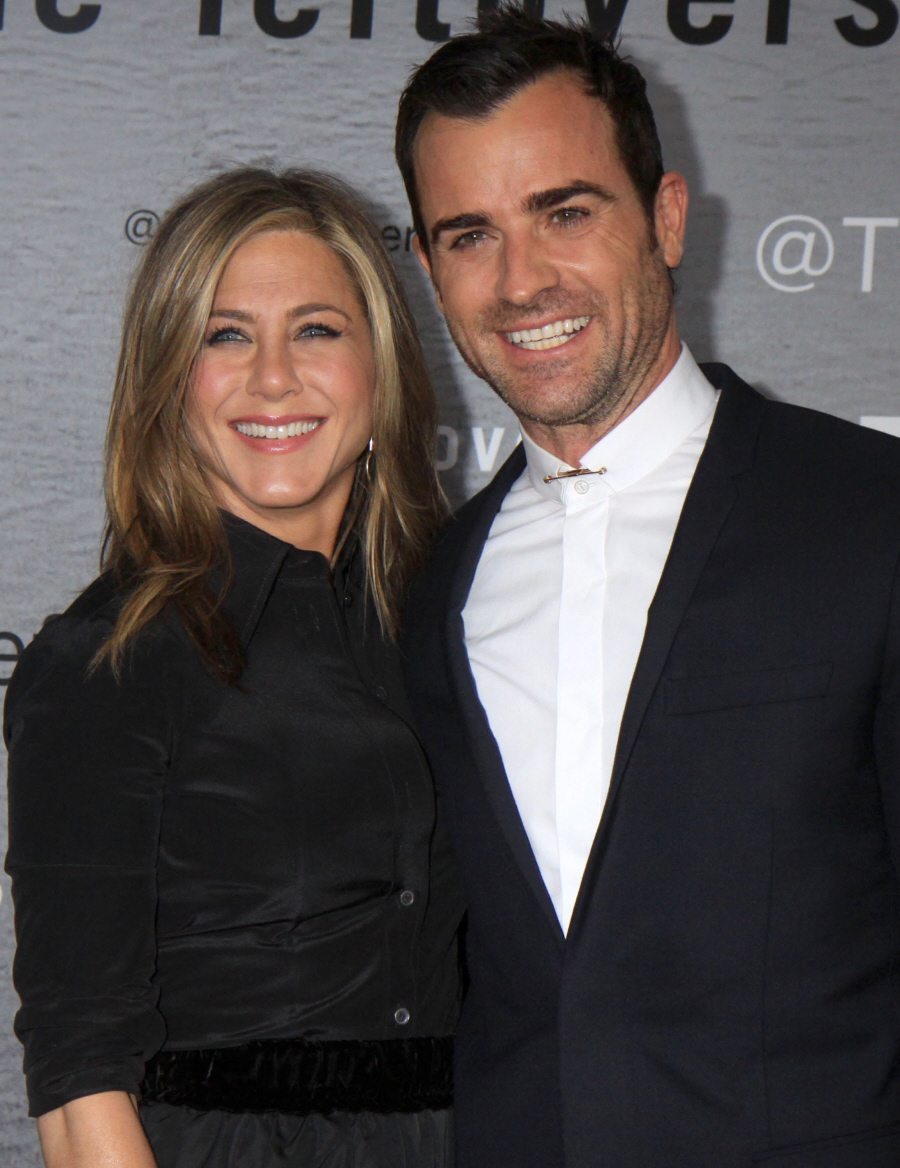 Photos courtesy of Fame/Flynet.
See more here:
Jennifer Aniston wants to do a 'surprise wedding' with a surprised Justin Theroux