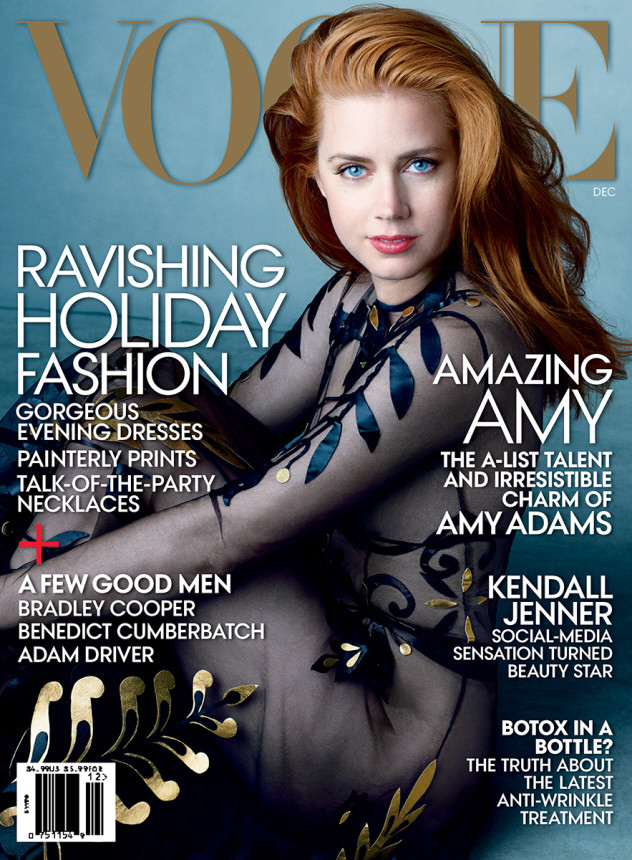 Amy Adams finally scored her first-ever cover of Vogue, for the December issue. She's supporting Big Eyes, yet another performance which could have her on the Oscar shortlist. She's the new Kate Winslet in that way – Amy's always nominated, but she's never won the big prize. The Academy loves her though, that's why they keep nominating her. You can see Amy's Annie Leibovitz photoshoot here – Amy and her Big Eyes director Tim Burton posed together and recreated The Red Shoes. You can read the full profile of Amy here – I always say this, but Amy is a boring interview. She's lovely and an extremely talented actress, but she's a snooze as a "celebrity." That's a good thing in life but a bad thing for gossip. Some highlights from her Vogue profile:
Seeing golden retriever named Murphy: "That's, like, my dog, my spirit animal. When I was younger, I was just so hyper and friendly to everybody. And still now, when I come on set, I'm like a golden retriever at a dog park, because I'm just so happy to be around people and eager to please."

Her early days in Hollywood: "I was able to do everything from day player to guest star to small parts in movies and it really, to this day, gives me perspective, but going through it was painful, to say the least. I felt a lot of pressure, but I just wasn't able to get there in the audition room. Or even in meetings. My squirreliness would come out, and people wouldn't feel confident. I've always been someone who had, like, a spirit of perseverance, but I actually almost quit because I was starting not to like who I was. My lawyer called me after I was fired from the two shows and said, 'Just to even get two shows in a pilot season is amazing. So you're doing something right.' I thank him all the time for that call."

Why she works with such powerhouse directors: "I prefer to work with really confident directors. If they need me to take care of them or make them feel better, it's probably not going to go well."

Working in the suburbs of Detroit: "I always have to remind myself: This is how I was raised. Every house in my town looked just like that one, right there. There's something kind of comforting about it. You feel like you could just go inside, sit down in the kitchen, and have a cup of coffee. With some creamer. Not half-and-half, but Coffee-mate."

Her daughter Aviana: "I miss her so much. Ten days is the longest trip I think that I've ever had away from her. Before I left I told her, 'Lots of people are going to see you, and Daddy's going to take care of you.' We have a huge community of friends. But she said, 'Momma, who's going to take care of you?' I said, 'I'm a grown-up. I take care of myself.' And she said, 'No, but you need someone to come and spend time with you.' Because now she has an understanding of loneliness. It's very sweet. She says, 'When I grow up, I am going to be your momma.' " She starts laughing. "She'll probably have to be. I'm such a wreck. I'm glad you think it's cute now. You're not going to think it's cute when you're 25 and I'm living with you."

Turning 40 years old: "I was like, 'I'm 40 and I still care what people think of me; I still don't do laundry so I'm always out of things; I'm just not a grown-up at all,' and I had this expectation that I would be by this age. It wasn't, 'Oh, I'm getting old and I'm going to lose something vibrant about myself.' It was more that I was just"—she switches into a trembling Katharine Hepburn—" 'so disappointed with myself.' It's just awful. Any chance for self-loathing!"
See? Perfectly pleasant. She's a good person, a loving mom and a supportive partner. There's no scandal. She's neurotic, but no more than any other working mom and talented professional. The most interesting thing, to me, is that like ALL of her directors wanted to go on the record about how amazing she is and how much they love her. And I didn't realize she had just turned 40 this year – she's a vampire! No, she'll still be working like crazy twenty years from now. She's utterly beloved. But will Big Eyes be the film that finally gets her an Oscar?
Photos courtesy of Annie Leibovitz/VOGUE.
Continued here:
Amy Adams covers Vogue: will she finally win an Oscar this year for 'Big Eyes'?