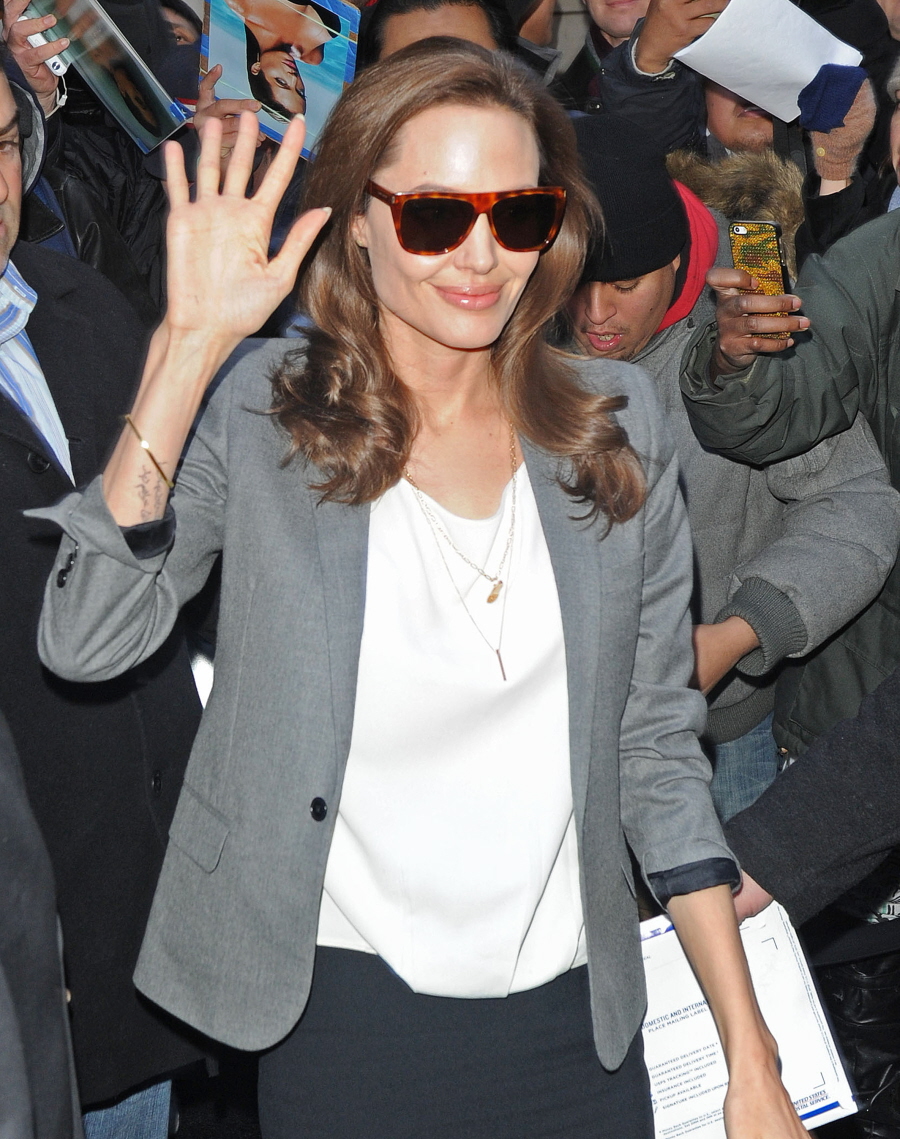 Smoke 'em if you got 'em!!! Angelina Jolie's first major TV interview has just come out – she was interviewed by Tom Brokaw for Today/NBC News and you know what? At the top of this clip, Matt Lauer sounds totally jealous that Brokaw got the interview. Ha! Angelina is Team Ann Curry, you know. She was tight with Curry and I seriously doubt Angelina will ever sit down with Lauer again. But Brokaw? Sure. Brokaw also reveals that NBC is making some kind of documentary about Louis Zamperini and how Jolie got the film made and stuff. Brokaw interviewed Jolie and Zamperini just a few months before Louis passed too, so I'm sure that's why Brokaw is all over this. Here's the interview:
Visit NBCNews.com for breaking news, world news, and news about the economy
I love that Brokaw went right for a quote about the wedding. Angelina talked about being married to Brad now, saying:
"It did change, in just a feeling of that security and comfort that we always had but recommitting after 10 years of being together. We were fortunate enough to be in that unusual situation where got married with our children, and they were part of the ceremony and they wrote some of the vows. So, it was all of us agreeing to be together and to just commit to this life together—not because we had to, not because anything was missing in our lives—but because we were absolutely sure. We felt that much of a family and it was that moment. It was really lovely. It was a lovely day… I think we have more moments where I'll say, 'I'm going to be a better wife. I'm going to cook.' And he says, 'Oh, honey. Just know what you're good at. Know what you're not.' " she said. "But I do this, 'No, no, no! I'm gonna get this wife thing down.' But he knows my limitations and where I'm a good wife and a good mom."
She also says working with Brad was "actually great." Oh, and this is fascinating: "The first film we did together, we weren't together…Ten years on, we've learned a lot more about each other, and it's a film about a very troubled marriage. So, it felt like the appropriate thing to do on our honeymoon." Hm.
Meanwhile, In Touch Weekly totally bought the photos of Angelina and Brad's Sydney "fight" and cigarette-smoking. Sources claim that Brad threw up his arms and "you could see the frustration on his face…He was clearly exasperated with her…They kept talking over each other and putting their hands up in anger. They were upset but getting nowhere. Angie looked like she was on the verge of tears." Sources say "Brad doesn't want her smoking – at all" and their fight was so major, they were "distant" with each other on the red carpet. Oh, and they left Sydney in two separate private jets. Huh.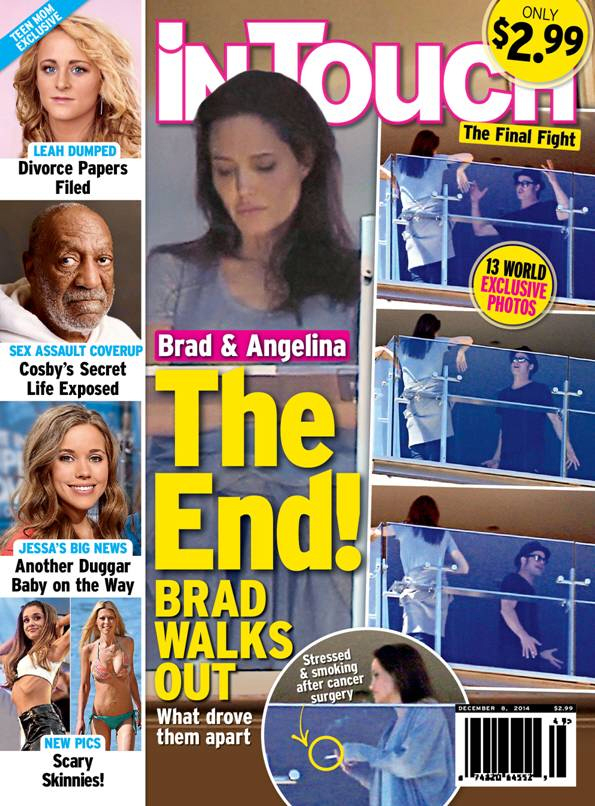 Photos courtesy of Fame/Flynet, WENN, cover courtesy of In Touch.
Read the original:
Angelina Jolie: 'I'm going to be a better wife. I'm going to cook.'