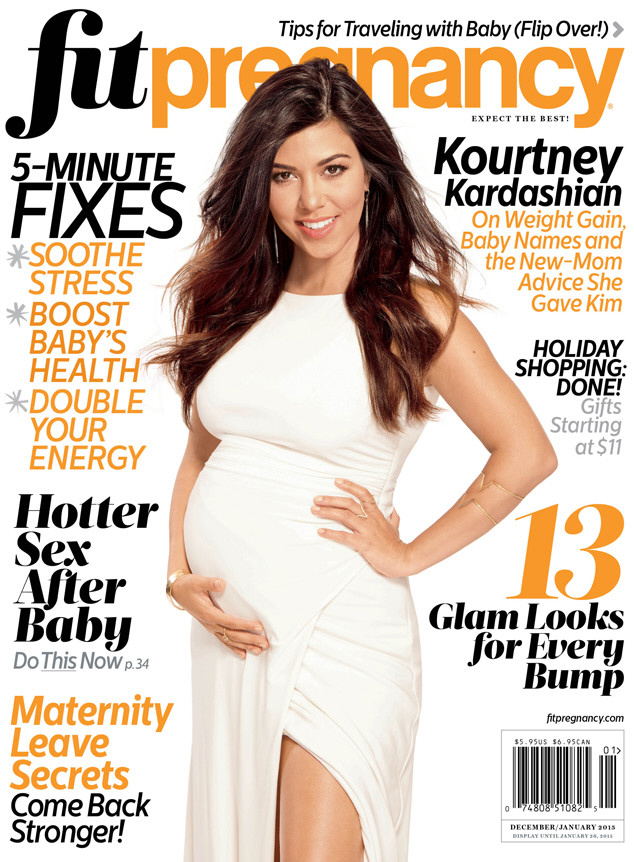 I ended up watching about 20 minutes of an episode of Kourtney & Khloe Take the Hamptons last weekend (don't ask!). I was reminded of something… Kourtney is the least interesting Kardashian, especially since she became a mom. I just think motherhood is her identity at this point, and to give her some credit, she seems like a very involved and loving mother. But that's it – She only cares about her children, often to the exclusion of everything else. After watching part of that episode… it does seem like she's an a—hole about everything else, especially Scott. I feel like she only keeps him around so she can keep on having babies. Anyway, she's about to give birth to her third, so she got the December cover of Fit Pregnancy. It's actually an interesting interview but that's just because she's talking about all of the hot-button mommy/birthing issues. Some highlights:
She wants to take care of her babies from the start: "I love doing everything myself at the beginning. I'm not getting a baby nurse. I take two months off and no one is allowed to bother me or talk to me about anything work-related — or maybe three months this time."

Breastfeeding: "I nursed Mason for 14 months and Penelope for 16, and I loved it," she shares. "It was built-in time that the two of us could share alone every day. I didn't have any goals or expectations."

Easy pregnancies & easy postpartum: "Both were really easy. I actually pulled both babies out of me! I was out of the hospital so fast both times because I just wanted to get home. I stayed in my pajamas for 30 days and kept the house really quiet. It's the only time I feel I have that excuse to shut everyone out and shut everything off. That time is a gift."

She's all about a hospital birth: "I think it's smarter and safer. I witnessed a home birth with my sister Khloé and, after seeing it, I felt it wasn't for me. There was too much risk involved and it wasn't as sanitary as a hospital."

She wants her third birth to involve less people: "I really want a calm environment, and with too many people in the room, it's hard to focus on what's going on. This time I think I'll have some calming music. Just no candles — I don't want any fire situations."

They know the sex of the baby but they're keeping the nursery color scheme neutral: "The room is neutral now. It has lots of grays, which I think is pretty. We'll probably just keep it the way it is."

Mommy guilt: "After Mason was born, I'd feel guilty doing anything that wasn't related to work. If it was a good friend's birthday and I had to go to dinner, I'd think, 'I don't want to be here. I want to be at home.' After my daughter was born, I made a promise to myself to live in the moment. Now, if I have to go to New York for work for one night, I'll meet my friends for dinner and really enjoy it… Also, Mason and Penelope have each other now, so I don't feel as guilty about leaving them occasionally."
Some people have very extreme feelings about home births versus hospital births. I guess it's bad form these days to say that every woman is different and you should just go with what makes you comfortable. I can't decide if I think Kourtney is throwing shade on those women who do choose home-births or if Kourtney is just saying this is what makes sense for her. I've always said that if a baby was ever coming out of me, I would want those old-fashioned knock-out drugs in a hospital setting. I would need to be unconscious or on #AllTheDrugs to get through childbirth.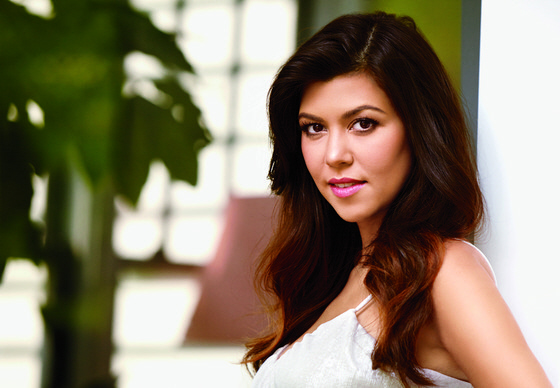 Photos courtesy of Fit Pregnancy.
Follow this link:
Kourtney Kardashian: Home births are risky, not 'as sanitary as a hospital'