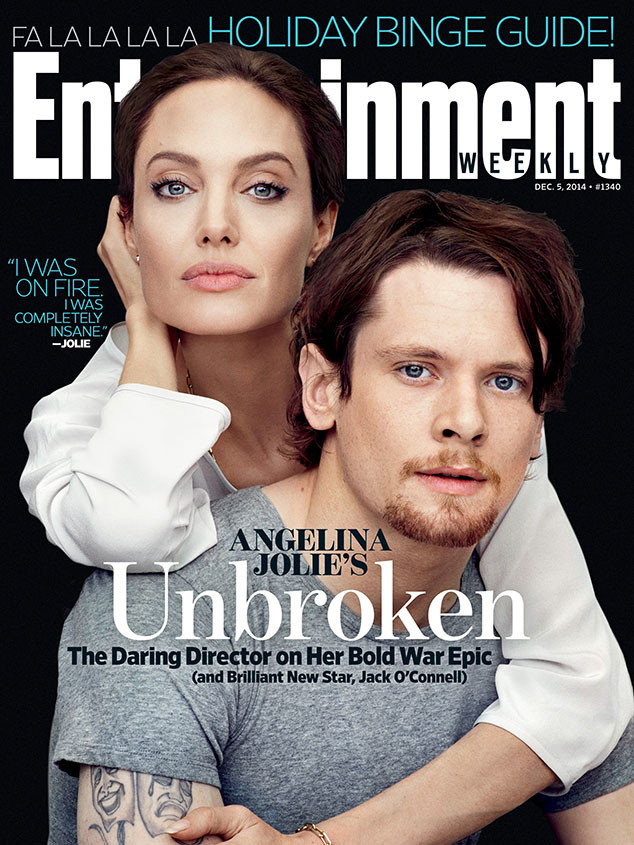 First, let's do the Entertainment Weekly stuff. We'll get to The Leg of Doom and her cigarettes in just a moment. As you can see, Angelina covers the new issue of Entertainment Weekly, with her arm draped protectively over Jack O'Connell, the lead of Unbroken. Angelina does have a type – she likes scrappy sh-tkickers, bad boys with hearts of gold. That's the vibe I'm getting from Jack too. In another life… they would have been extremely HOT together as a couple. Like, crazy hot. As for the EW interview – go here to read the excerpt from the cover story. It's stuff we've heard before, how Angelina couldn't believe the studio let her direct this, etc. She also talked about what she does to relieve stress: Christmas present wrapping! Because she can't say "I chainsmoked two packs waiting to hear back from the studio."
Now, on to the cigarettes, the fight and what I can only assume was Brad Pitt storming out of an Australian hotel room in tears. Woman's Day, an Aussie tabloid, got exclusive shots of Brad and Angelina fighting on a hotel balcony two weekends ago, just before the big Sydney premiere of Unbroken. GO HERE to see the exclusive photos. To me (a Brangeloonie with a lifetime membership) it looks like they're having a disagreement but not a fight. Like, those aren't OMG I'M SO ANGRY faces. Those are "You are plucking my last nerve, you better take a bath before the premiere, Goat Boy" and "Jesus, Angie, another sack dress?" faces. As for the cigarettes… Angelina was a casual smoker in her youth, but I thought she stopped smoking cigarettes a long time ago. Maybe she did and she started up again? God knows, Brad has quit a bunch of times and gone back to Sweet Lady Nicotine every time.
If you will remember, Brad had been promoting Fury all over Asia, and Angelina had been in LA for the Hollywood Film Awards, so they ended up meeting in Australia so they could walk the carpet together. And if you remember, they weren't tons of photos of Brad and Angelina side-by-side, holding hands or grabbing each other's asses or anything. When they did pose together, it was mostly with the Unbroken cast. So, what do we make of the photos? Did they have a blow-out fight and they were still pissy with each other at the premiere? Did Brad agree to take a bath? Is Angelina a stress smoker? Did someone cry and storm out of the hotel?!
Damn, Brangelina. Pull it together! Unbroken needs some sensual red carpet butt-grabs. And if they don't work it out, I hope Angelina steals Jack O'Connell away from Cara Delevingne and then Angie and Jack become the hot new couple.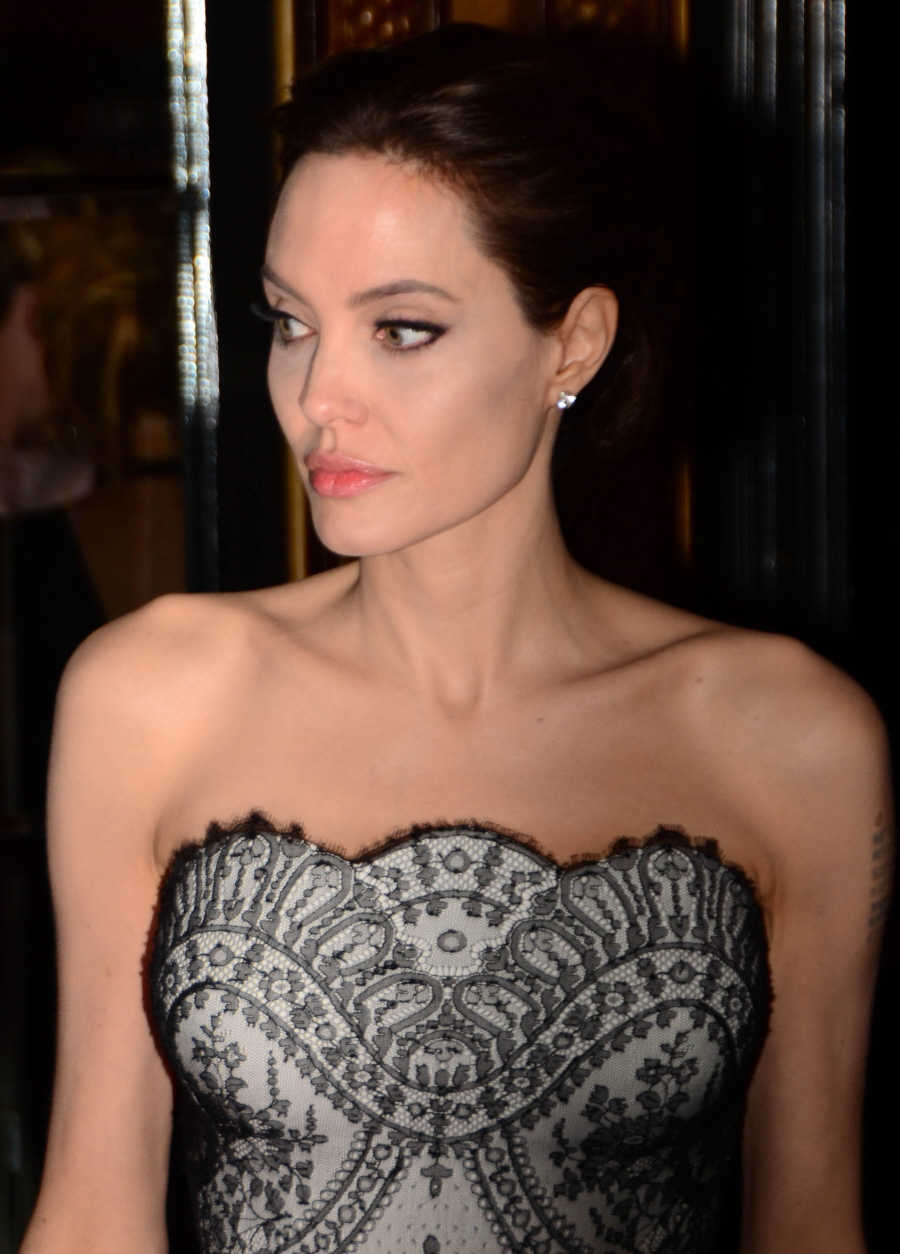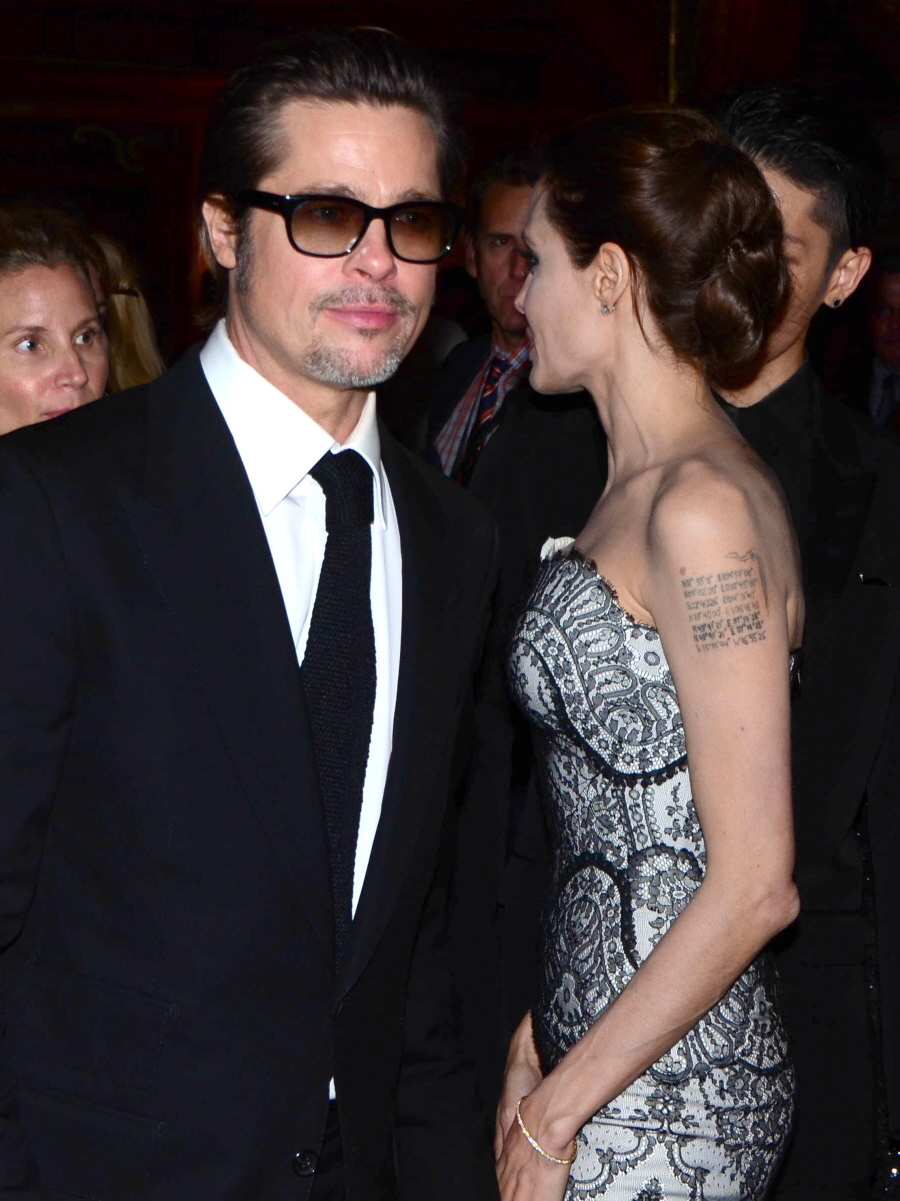 Photos courtesy of Fame/Flynet, WENN, EW.
See original here:
Angelina Jolie smoked a cigarette & fought with Brad Pitt on a Sydney balcony