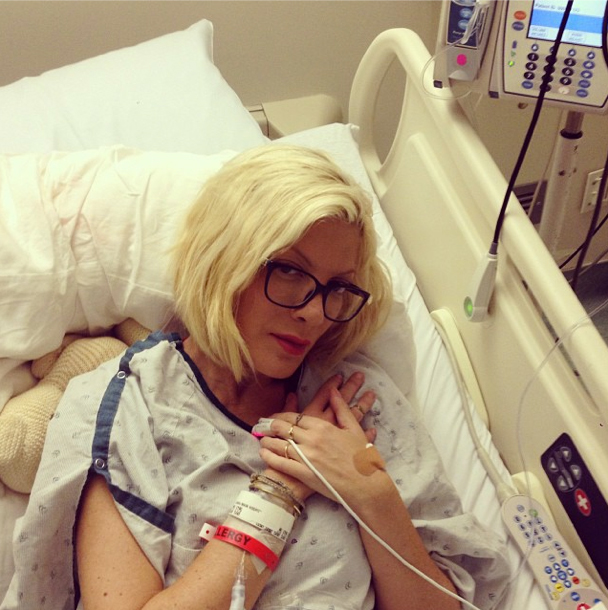 I didn't envision writing about Tori Spelling two days in a row. This may be overkill, but the second season of True Tori is in full gear. Tori's pulling out all the stops lately. She lunched with Dean McDermott's ex-wife. She bragged about sleeping with Dean the first day they met (even though they were both married to other people). Tori has taken a brief break from her homelife, however, as she's been hospitalized for pneumonia-like symptoms.
Tori's been Instagramming from her hospital bed. I believe she's sick but fully expect this ordeal to be documented. Tori has indeed suffered various medical ailments over the years. I'm not accusing her of faking a hospital visit. She is bringing the drama though. She captioned the above photo as follows: "This sick in hospital I finally see how quickly life can take it all away frm you. We all need 2 step up frm inside& go 4 it! W/our friends by our side. Sadly I've finally faced truth that 1 person will never be there 4 me #TrueTori"
We're supposed to believe that Dean is the person who won't visit Tori because he's the big bad cheater. If Tori is talking about Dean, then I wouldn't blame him for not dragging their four kids to the hospital. Tori's team put out word that her doctors suspect Enterovirus. She's supposedly under quarantine. Tori knows what she's doing — she will milk her marital drama as much as possible. There IS a comment on this photo that simply reads "LIAR LIAR LIAR LIAR LIAR." Not everyone buys Tori's sTories.
Dean probably isn't the culprit. Candy Spelling is far more likely to not visit Tori in the hospital. Candy and Tori have well-documented tension. This week's issue of Life & Style has a story about how Candy is now best friends with Tatum O'Neal. Tatum now sees Candy as a "real mother figure," and Tori is jealous. Yep.
Oh, and Dean fully feels the pressure over his negative rep. He spoke with ET Canada about seeing his own face on tabloid covers: "You know, when you're at the checkout and you look over and you see one of these magazines and it's like, 'Dean McDermott's a monster,' I'm not a monster, I'm a human being and I messed up I'm owning up to it and I'm getting help. To label me a monster or evil is very hurtful … You know, I'm not the first person to ever cheat on his wife." Dean's correct — he's not the first guy (or gal) to cheat. He may want to talk to Tori about feeding all their dirty laundry to the press.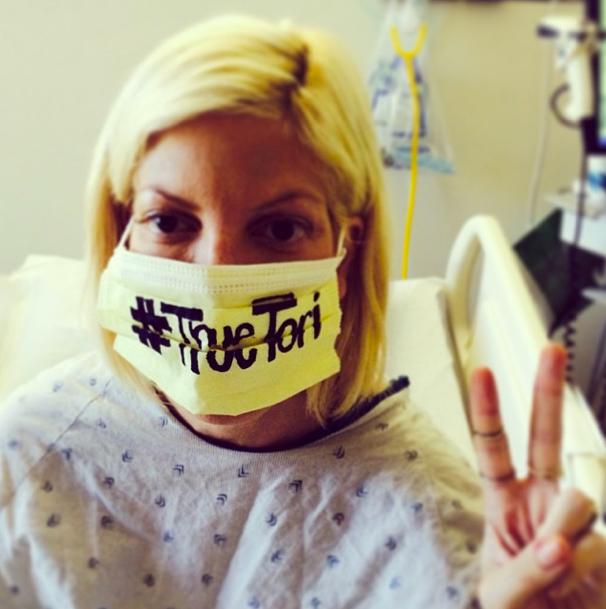 Photos courtesy of Tori Spelling on Instagram
See original here:
Tori Spelling posts sad hospital bed pic, implies Dean won't visit: truth?