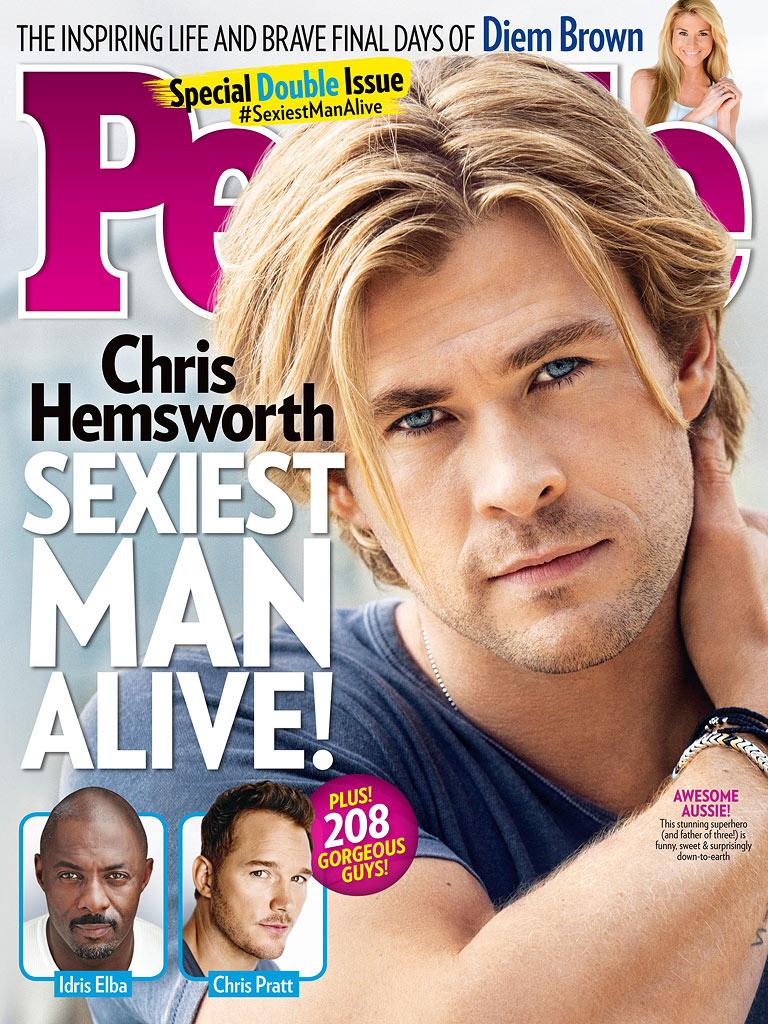 To be a Sexiest Man Alive, you have to have hustle. And while I have my doubts that Chris Hemsworth really has that hustle, I have no doubts that Elsa Pataky could out-hustle nearly everyone in Hollywood. So, here you go! Our 2014 Sexiest Man Alive is NOT Chris Pratt. Or Prince Harry. Or an Otter Dressed Up As Benedict Cumberbatch. It is Chris Hemsworth. My first reaction? "What does he have to promote?" You know what it is? That Ron Howard movie, In the Heart of the Sea. Smart. Too bad they stuck Brad Pitt's 1996 wig on him for the cover!!
He continues to smite bad guys as a hammer-wielding Norse god in The Avengers, will fight off a terrorist hacker in Michael Mann's upcoming cyber thriller, Blackhat and battle a whale in Ron Howard's In the Heart of the Sea, but there was no contest when it came to naming Aussie Chris Hemsworth this year's Sexiest Man Alive.

The actor, 31, thought it was "pretty funny" when he first heard the news – as did his wife, Spanish model, Elsa Pataky, 38, whom he wed in 2010.

"I think you've bought me a couple of weeks of bragging rights around the house," he tells PEOPLE in this week's cover story. "I can just say to her, 'Now remember, this is what the people think, so I don't need to do the dishes anymore, I don't need to change nappies. I'm above that. I've made it now.' "

The Australian-bred Hemsworth also reveals that he prefers to sleep sans pajamas, has a signature dance move (with a spin!) and would rather be home in Australia, where he and Pataky live with their three kids – daughter India, 2½, and 8-month-old twin sons, Sasha and Tristan – than anywhere else.

"We just had a big beach day with the kids, swimming and kicking the ball around," he says. "That was the first time in a long time we've done that. That's what it's all about."

As for that ripped body, Hemsworth, who puts on 20 lbs. of muscle for his role as Thor, says he tries to be disciplined when it comes to his diet and exercise but looks forward to his cheat days. "Then it's pizza, hamburgers, beer, sugary things," he adds. "Everything I'm not allowed to have!"
It probably would have been smarter to give this to him last year, with Thor and Rush coming out last fall/winter. But he has the Ron Howard movie, plus Blackhat… which looks BAD. So he needs a push. He needs a push more than Chris Pratt. And hey… I'm sure more people find Hemsworth sexier than Pratt.
You can see the rest of People's SMA package here. The rest of the men who made the list: Chris Pratt, Jamie Dornan, Ki Hong Lee, Blake Shelton, Bradley Cooper, Matt Bomer, Michael Strahan, Eddie Redmayne, Scott Foley and Tim Tebow. UGH! No otters made the short list. No charming potatoes either.
Chris was announced as the SMA last night on Jimmy Kimmel Live. Hemsworth came out and told Kimmel that "I learned everything there is about being sexy from Matt Damon." You can see the video here. And here's his video with People – he's better in motion. And he thinks Elsa is the sexiest.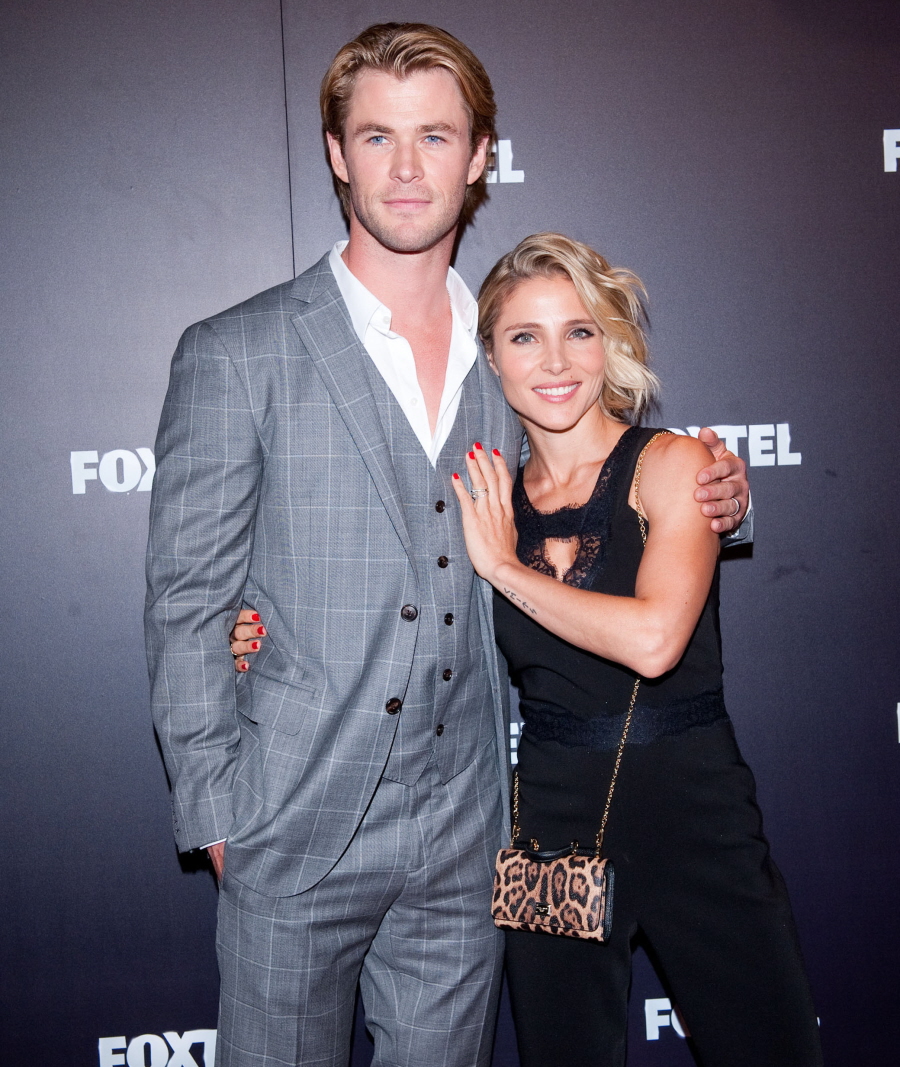 Photos courtesy of Fame/Flynet, cover courtesy of People.
Read more from the original source:
Chris Hemsworth is People Mag's 2014 Sexiest Man Alive: yay or nay?