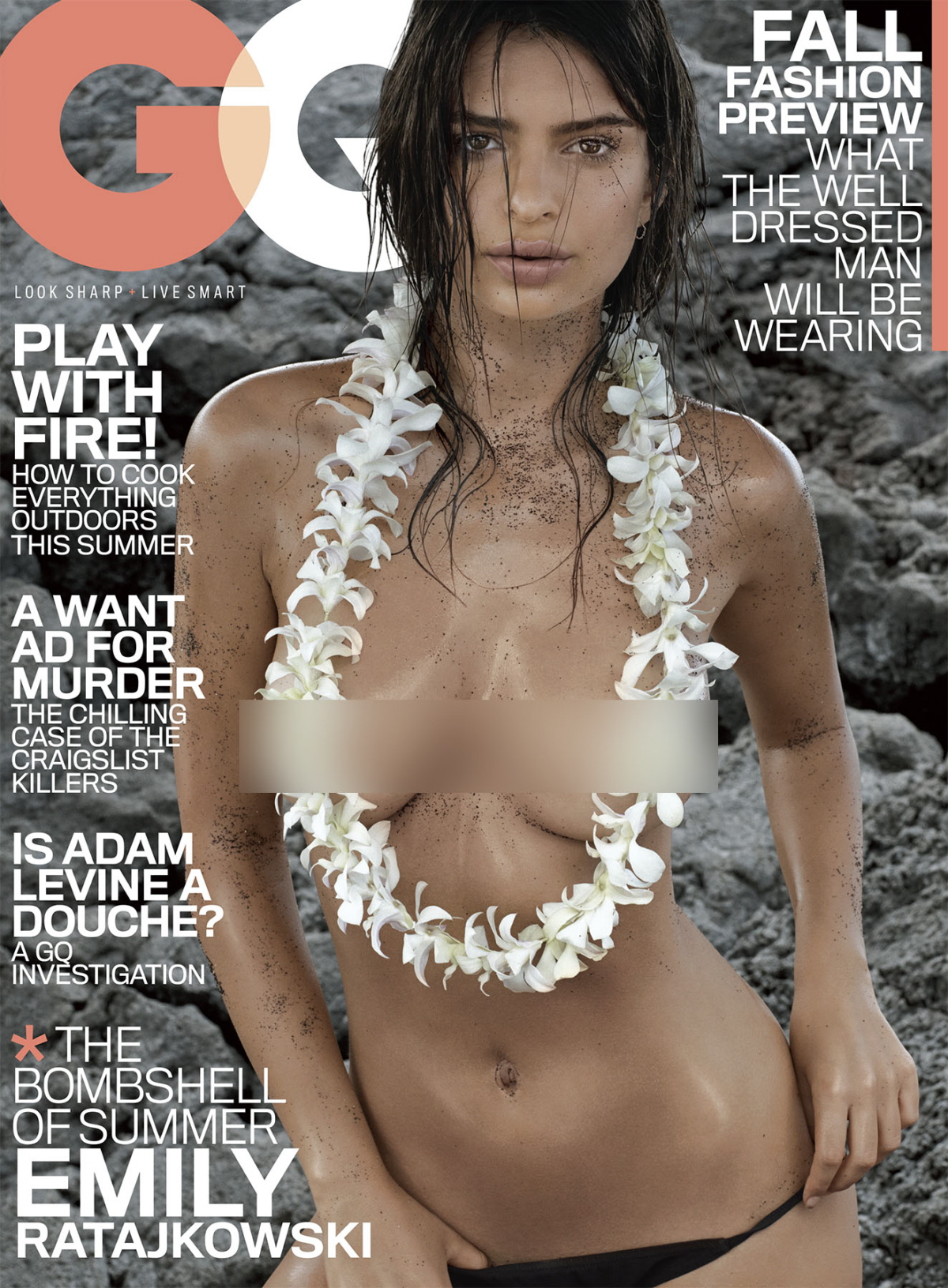 I like Emily Ratajkowski, otherwise known as "The Woman with the perfect boobs in the 'Blurred Lines' video." I think she's pretty and sexy, and I think she was perfectly cast as "the mistress" in David Fincher's film adaptation of Gone Girl. Big things are coming up for Emily, and she's trying to successfully transition from model to actress. Thus, this GQ cover and a glowing write-up. In my experience, models are generally terrible interview subjects – I'm still shuddering over some Brooklyn Decker interviews from a few years ago. But I really, really enjoyed Emily's GQ interview. She grew up by the beach in Calfornia, she's a big reader, she loves movies and she's not mind-numbingly awkward while trying to express her thoughts. Yes, we're setting the bar pretty low, but still. She sounds like a cool woman. Some highlights:
She loved Woody Allen's Blue Jasmine: "Have you seen Blue Jasmine yet? Most people I know hated it, but I loved it. I feel like, in Cate, he finally found the right vessel for his neuroses."

The decline of Europe: "I've spent so much time there, and I love it, but I feel like it's such an insignificant part of the world now. The population's decreasing; it's doing the same thing it's been doing for a long time. Economically, it's f–ked."

French men love her "I don't know what it is, but French men love me. The crowds are terrifying. We went out one night a couple of months ago to Le Titty Twister, and there was a crowd situation."

On the Blurred Lines video: "I didn't want to do it at first, but I talked to the director and I understood what it was… I do like it. But if there's one thing I'd request, it's for people who see me out to not be, like, You're the hottest bitch in this place. When it comes on in a bar, I run into the bathroom and hide."

On dating: "Generally, I just think there is a real lacking in men knowing how to hit on women. I have this whole running joke with someone: What Would Denzel Do? Like, you don't think about how many days you should wait to call the girl—you just do it when you want. F–kin' Denzel. You do what you want, you know what you want."

On bars: "Bars are bad. Generally, people don't want to be embarrassing. But when there's alcohol involved and group mentality, it can be a little weird. Guys will say, 'You know who you look like…,' and then word spreads. Or guys do this thing where they go, 'I would love to take a picture of you for my friend.' And then they get out their phone and their hand's shaking, and I'm like, 'You're taking this for your friend? I thought you didn't care.' "
She also talks about being cast in the Entourage movie in what seems like a major part (although I guess she's playing a version of herself). She scored the role after she filmed her part in Gone Girl. GQ had an absolutely fascinating part on just how Emily was cast in Gone Girl as well:
"I was talking with Ben [Affleck], and what I wanted for the Andie role was someone who could be incredibly divisive among men and women in the audience," Fincher says. Andie is the writing student and mistress of Affleck's character, Nick, who calls her "an alien f–k-doll of a girl…as different from my elegant, patrician wife as could be."

Fincher continues, "We needed somebody where, at the moment she appears, the women are going, 'That is unconscionable and despicable.' And you also have the men going, 'Yes, but…' And so Ben said, 'Yeah, like the girl in the "Blurred Lines" video.' " Let it be noted that Affleck handpicked the woman with whom he'd endure Fincher's "several dozen takes" of make-out sessions. "She was just incredibly mature," Fincher says. "She wasn't smitten with being the girl of the moment. She's no bulls–t. If somebody's gonna ruin their life on a 21-year-old, they have to be special, and she was."
I am assuming that Gone Girl is probably going to end up rated R, for violence and general creepiness. But I'm also assuming that Ben Affleck and Emily had at least one torrid love scene. There were some flashbacks sex scenes in the book, and it might make sense for the film to have them too. So Ben got to choose who was cast in that role. Fascinating.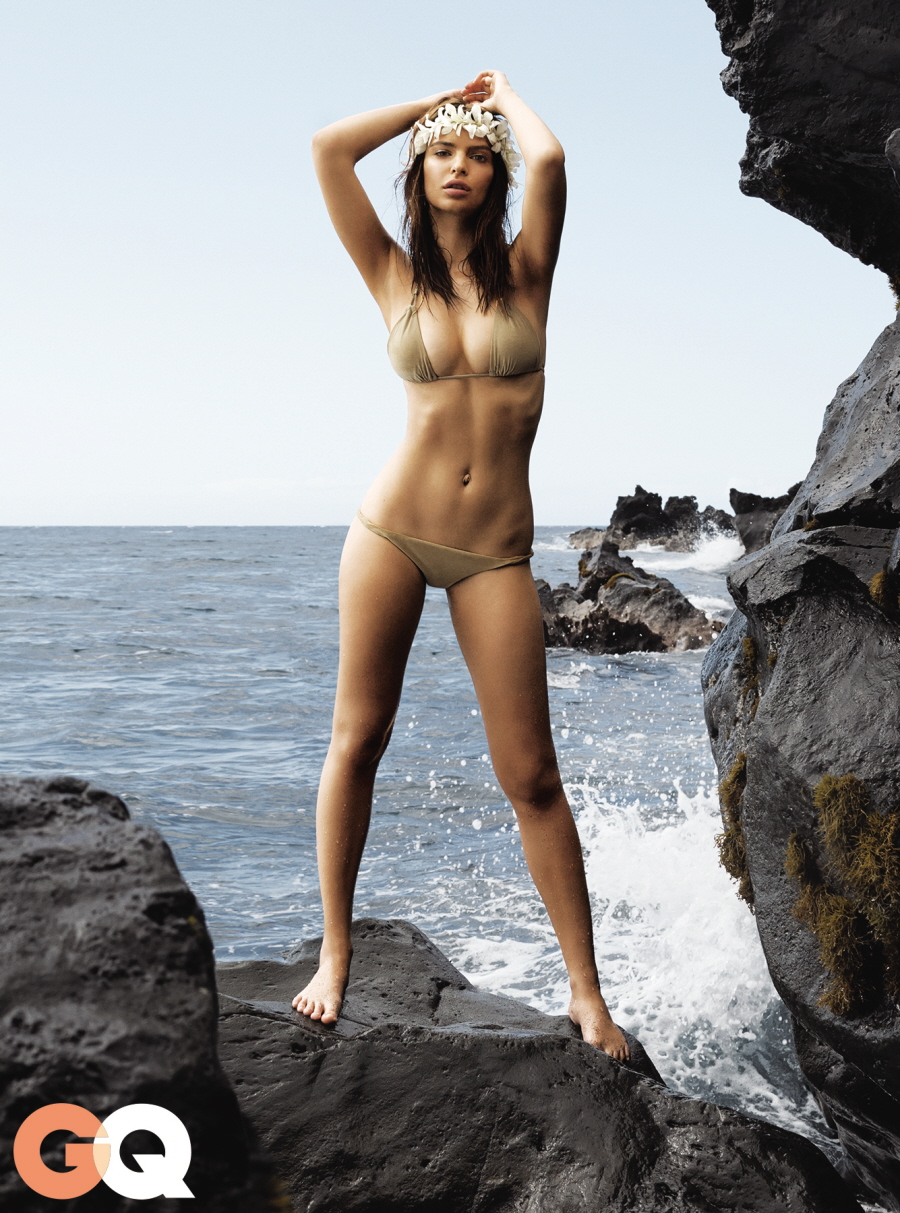 Photos courtesy of Michael Thompson/GQ.
Read this article:
Emily Ratajkowski on Europe: 'It's such an insignificant part of the world now'