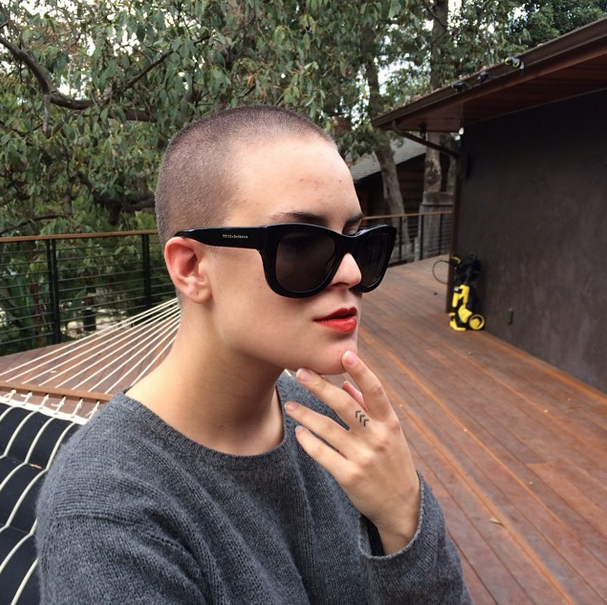 Tallulah Willis, 20, got out of a stint in rehab a couple of months ago and has been celebrating her sobriety. Just prior to that, she did a candid video for The What's Underneath Project. The What's Underneath project was founded by stylist Elisa Goodkind and her daughter, Lily Mandelbaum. Goodkind and Mandelbaum interview participants as they strip down to their underwear and discuss self image and self acceptance. You can see some of the interviews on their website.
In Tallulah's interview she talked about developing body dysmorphia and how criticism on the Internet affected her deeply when she was just 13. She said she took it to heart "reading those stupid f–king tabloids when I was like 13 and feeling like I was ugly, like always."
In a new interview on Yahoo!'s Katie Couric Wow show, Tallulah was interviewed along with Goodkind and Mandelbaum. They're trying to raise funds for The What's Underneath Project. Tallulah said that she's sober now, and that her drug use was just one of the ways that she tried to escape from feelings of inferiority. I found her well spoken and interesting. Here's what she said and
you can watch the video of this interview on Yahoo!
The public criticism she received when she was younger - "From a very young age, something was communicated to me that I'm not OK. That I'm not enough. I had people when I was 13 telling me how ugly I was, and how could two beautiful actors create such hideous troll children? My only claim to fame was that I was born. I did nothing to warrant this, so I think there was a lot of struggle with that. There was a lot of anger with the fact that not only am I trying to discover myself, having to discover it under the very cruel gaze of a lot of other people."

How her lack of self-esteem stemmed her substance abuse and other issues – "It really just goes down to I didn't feel OK with who I was. So whether it was not eating, overeating, being over indulgent and spending money on things or hiding away or going out, it really just goes back to 'you're not OK with who you are, so something else is going to fix it, something else is going to change that.' I think if anything it's going to help me be more present for continuing not just the work on myself, but being able to help other people.

On her participation in "The What's Underneath Project" - "I think that this problem is sometimes scoffed to the side as a girly issue, 'yeah of course girls don't like the way they look.' But it actually is so much bigger than that.' I guess I didn't understand that this is such a communal fault line that is running through every individual on this planet that whether it's hidden or not hidden, that we all feel this certain sense of insecurity. So many people are telling me, 'You inspired me.'"
I'm impressed with Tallulah and how well she expresses herself. It must have taken a lot of courage to admit that she was so hurt by the criticism online. She really seems like she has it together now, and like she's making sense of what she went through. This is also a great cause. I hear some of the things my friends say about themselves and it makes me so sad. Whenever I'm tempted to criticize myself, I try to imagine a friend saying that about themselves and what I would tell her. I would tell her she looked great and I would mean it. I try to treat myself that way too.
Oh and Tallulah shaved her head! She was sporting a short pink 'do but she's since shaved it off. She also Instagrammed photos of her mom, Demi Moore, with her GI Jane buzz cut. They do look a lot alike. Tallulah looks great! I mean it.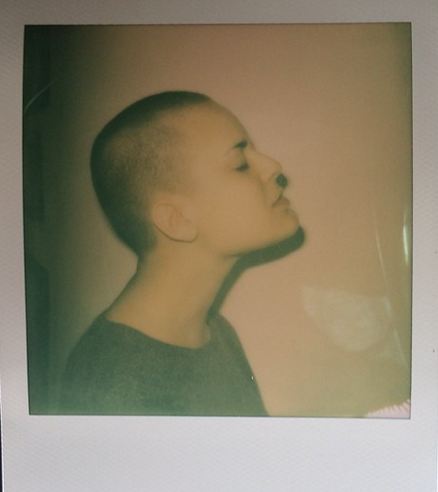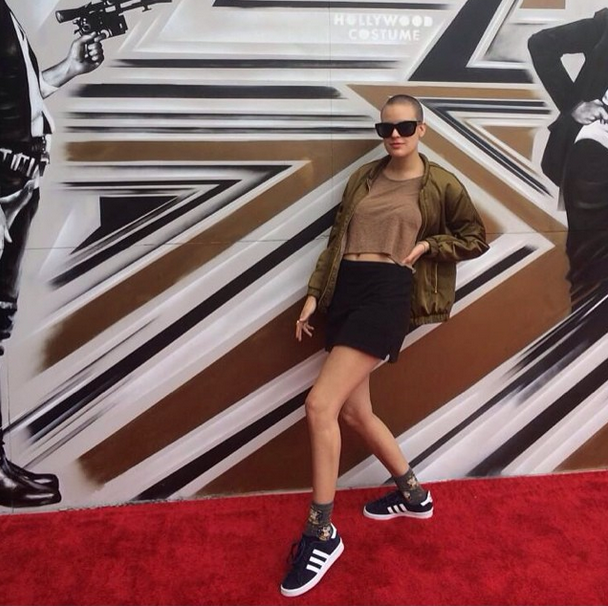 Before: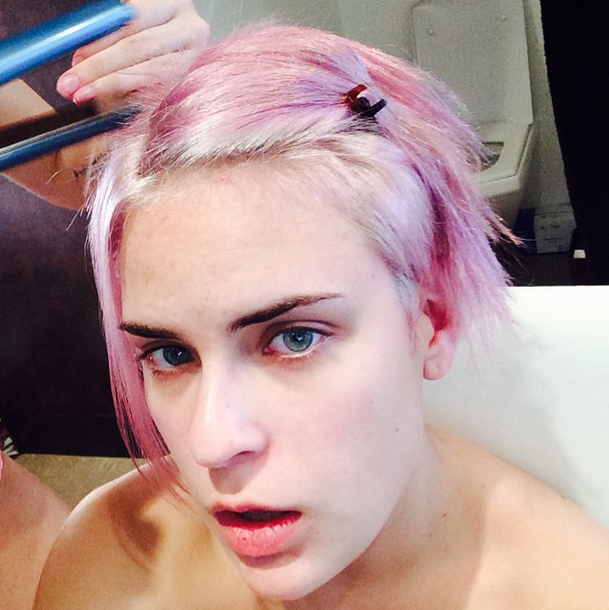 Here's a video of Tallulah buzzing her hair off.
candid photos are from 10-21-14 and credit: FameFlynet. Other photos via Instagram
Read this article:
Tallulah Willis shaves head: 'I had people when I was 13 telling me how ugly I was'