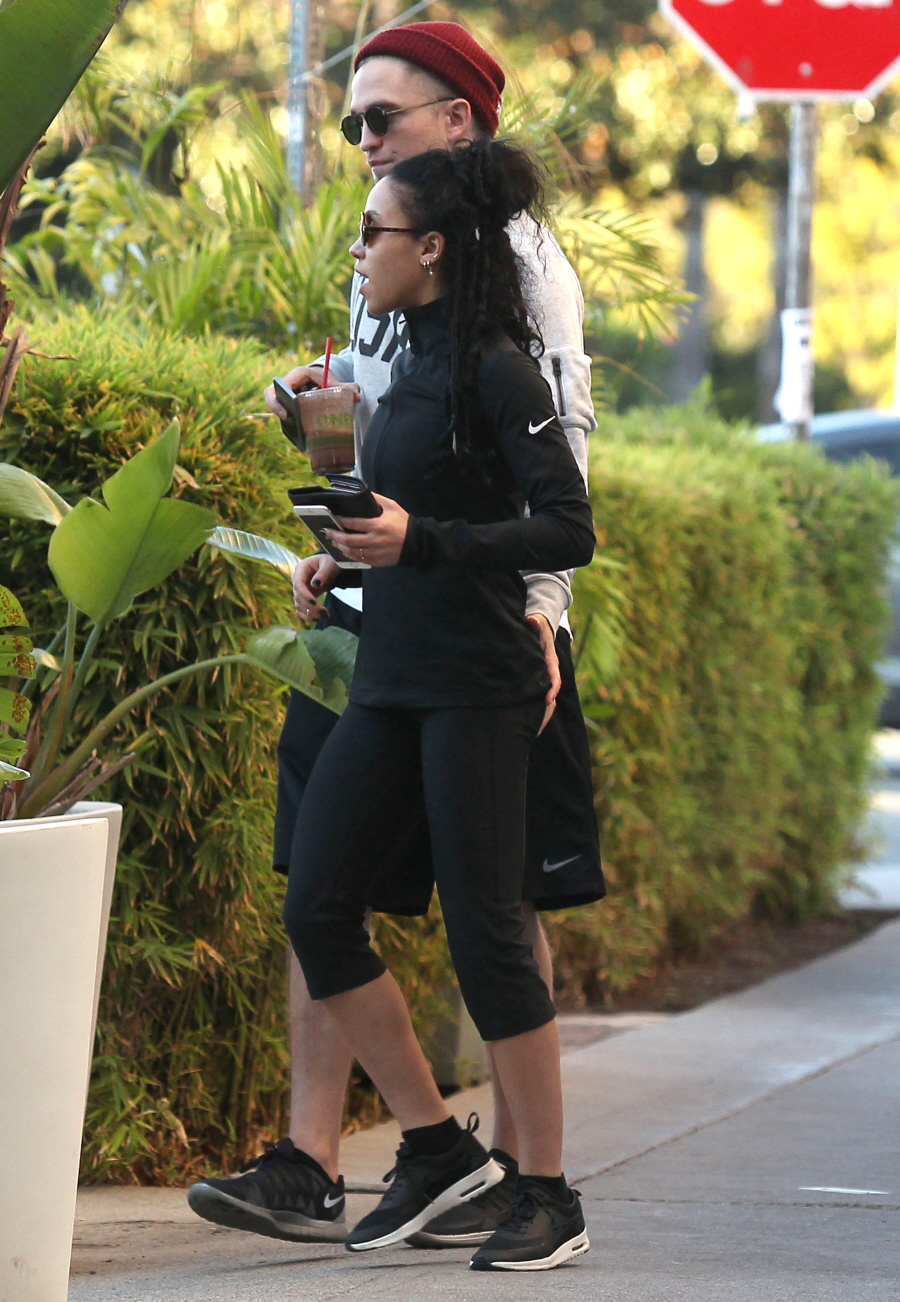 Here are some super-cute photos of Robert Pattinson out with his girlfriend of three months (?) FKA Twigs. They are adorable!!! It looks like they maybe worked out together and then got some iced coffee or smoothies or something. Sparkles is making faces in half the photos because (I think) he doesn't like the taste of one of the drinks. Twigs definitely looks post-workout, but I might be wrong. Maybe this is just their low-key, loved-up-in-LA look. And check out Sparkles acting saucy by grabbing Twigs' butt in full view of the paps. It honestly doesn't look like a "I can't wait to really grab your butt in private" kind of grab. It looks more like Sparkles touched it for a second with his fingertips and said "HONK!"
Anyway, Twigs has a new interview with Rolling Stone. She talks about Rob a little bit and their relationship and her newfound tabloid fame/Twihard infamy. You can read the full piece here. Here are my favorite parts:
The hate-tweets she got for dating Rob: "It was all this crazy, racist abuse out of nowhere. But if you're an artist, you have to use everything to your advantage, even the pain."

Growing up in rural Gloucestershire, England: "It was boring and it was beautiful. You're running in fields, you're outside, you're imaginative – but there's also nothing to do, and when you get to be a teenager, sometimes you kind of lose touch with nature, like I did. You become so trapped in yourself."

Working as a background dancer in music videos: "As more time goes on, I realize how much I hated it. If I didn't connect with it creatively, sometimes it would be a bit like, 'Ugh, why am I doing this?' Like a tiny cog in a wheel. But at the time I was very grateful – I'd do a music video and make £200 from it. It would have taken me a week and a half to make that doing four jobs."

She doesn't care about fame: "I don't want to be in front of the camera forever," she says, mentioning dreams of scoring films or directing videos for other artists instead. "I'm not thirsty. I'm not a pop star. I don't want to reign over all forever." She is firm on this point: "I don't want to be famous!" she adds. "It makes me feel sick, the thought of being a famous person. It's just not me. I'm the happiest when I'm in the studio, not on a beauty parade."

She's not a cute little girl: "I love feeling dark. The whole of my life, when people are getting to know me, they're like, 'You're so cute!' But how I look is not how I am. If you're going to get to know me on the body that God gave me, then you're going to get a shock at some point. I look like an anime character, but inside, I feel like a warrior. Like a female mother-earth warrior in a tribe in Africa or a rainforest that we haven't discovered yet. I feel like I'm really quiet and really tall, six foot, and when I scream, all the leaves rustle and I can throw spears. I have all these big scars all over my face from where jungle animals have tried to fight me, but I've won. I've had loads of children, so my bones are strong, but my skin is all weathered. That's how I feel. I was just put in a manga character by accident."
Do you believe her when she says she's not thirsty? I don't think she's thirsty in, like, a Lady Gaga way. Twigs strikes me as a control-freak artist, someone who will abandon a project if she doesn't get to do it her way. Someone more concerned about doing it her way than just being famous for whatever. But I wonder how that translates to her private life. Oh, and she mentions how she's reading a lot of Anaïs Nin these days. Damn… Sparkles is probably enjoying that. *BUTT HONK*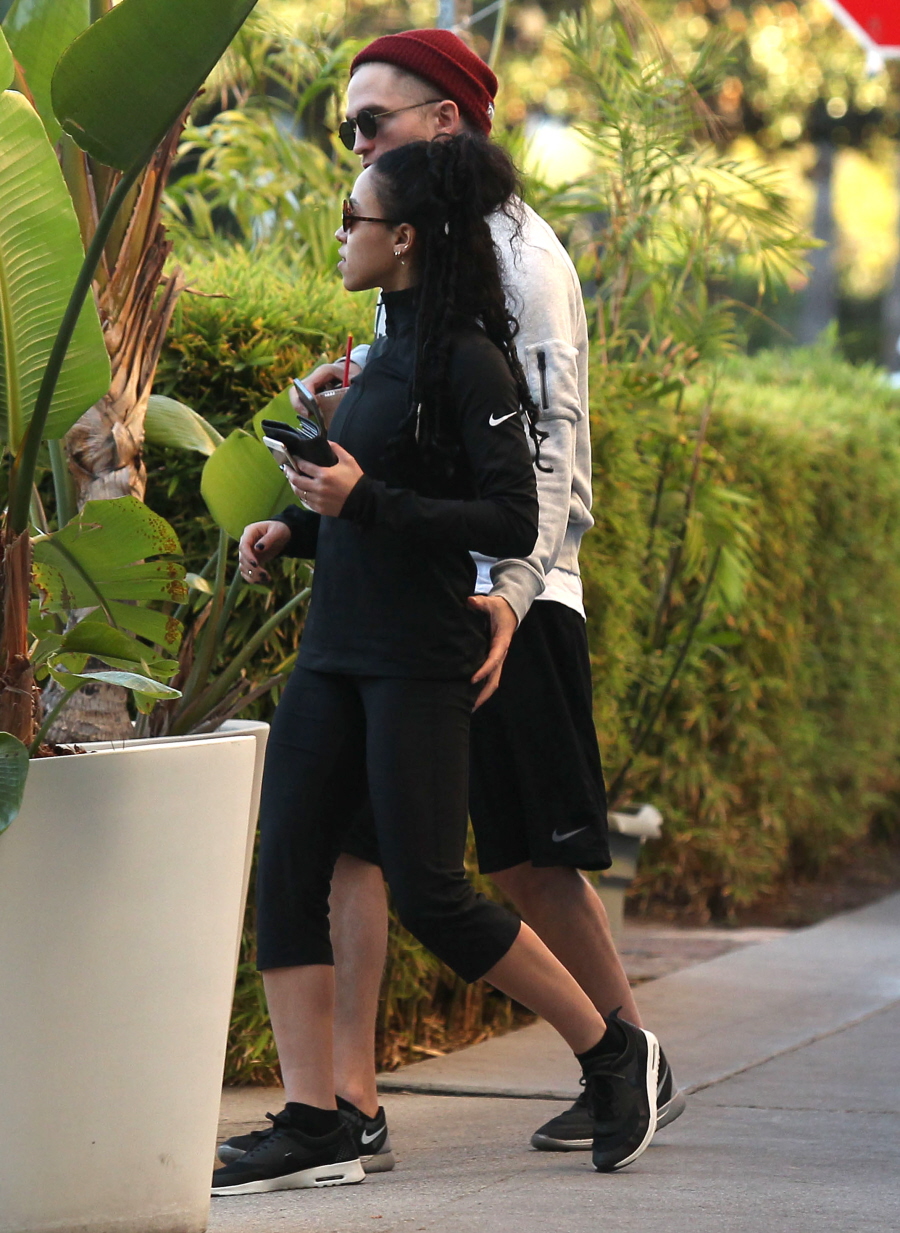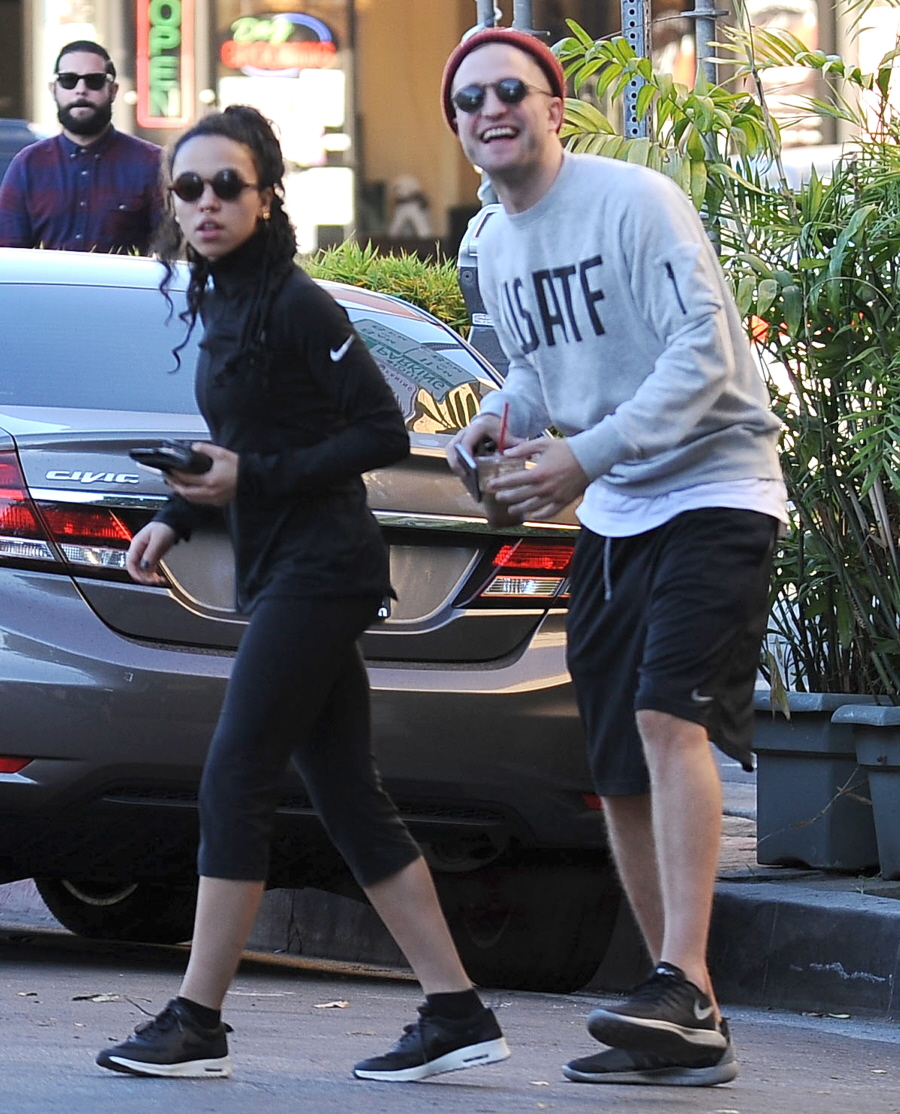 Photos courtesy of Fame/Flynet.
See original here:
FKA Twigs insists she's 'not thirsty', gets pap'd in LA with Robert Pattinson