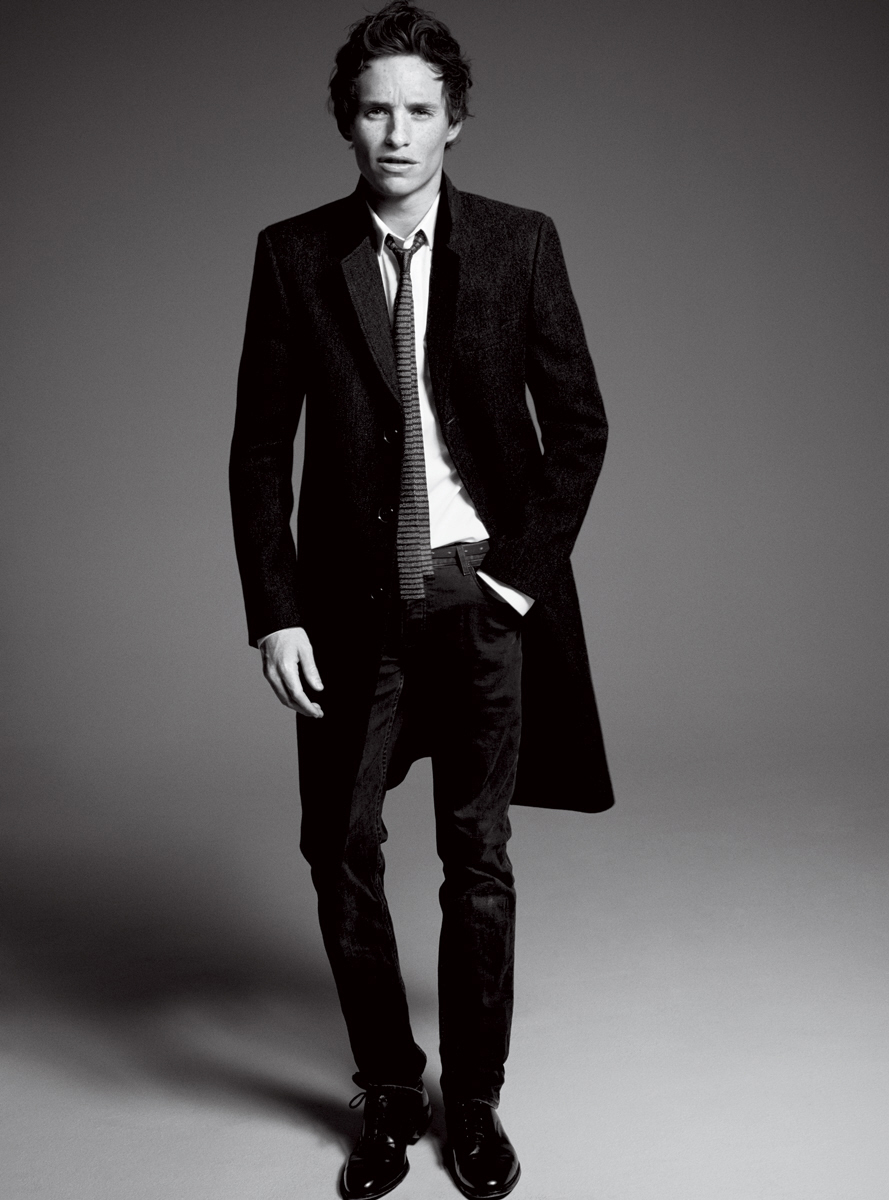 Here is a lovely photo of Eddie Redmayne in the new issue of Vogue. I have to apologize for largely ignoring him this year. I paid a lot of attention to him during the Les Miserables promotion, when his amazing style kept stealing focus from the ladies of Les Mis. But this year I've had an ulterior motive for ignoring him – his performance in The Theory of Everything has received rave reviews, and I worry that the Academy voters will feel like they can only nominate ONE posh English boy and I really want that posh English boy to be Benedict Cumberbatch. Yes, I will throw Redmayne under the bus for Bendy. I have no shame! But I can't ignore Redmayne forever, especially since he's been in NYC for the past week to promote his movie (I'm including some additional pics at the end of the post).
So, Vogue gave Eddie a really nice write-up. Incidentally, Eddie is featured in many of the major magazines this fall. Vanity Fair did a photoshoot with Eddie and a basket of puppies too! You can read Eddie's Vogue profile here and here are some highlights:
His early days as a model: "The most success I think I had was doing a knitting magazine that was sent to grannies, but after my huge, heady days in the knitting books, I left it behind."

Filming scenes at Cambridge, his alma mater, with Stephen Hawking there: "It was like stepping back in time. Everyone was dressed, and we were waiting for the fireworks display. As if on cue, Stephen came in in his wheelchair with his caregivers—it was nighttime, and his face was uplit by his computer screen—and just as he arrived, the fireworks went off. It was the most rock-star entrance I've ever seen."

He visited ALS patients and caregivers: "Stephen Hawking is their great hope because he has lived so long." Redmayne tells the story of the wife of a totally immobilized patient who was asked, on film, what the worst thing was about her husband having ALS. "And she says, 'Oh my God, d'you know what? I don't know where to start,' and she just stands there and then breaks down, and you watch her husband try to move his body to hug her, and he can't do anything, and so she has to come and hold him."

Going to Eton, studying Art History at Cambridge: "I come from a totally unmusical, untheatrical family. But when I was younger, Mum and Dad quite enjoyed musicals, so we would be taken to see Les Mis, and I saw the little kid in it—Gavroche—and kind of slightly hero-worshipped him. And so I sort of dreamed of that."

His free time: Redmayne is a fanatical theatergoer—he recently saw Mark Strong in A View from the Bridge and Gillian Anderson in A Streetcar Named Desire, both British productions—and draws and practices his piano. "I have very erratic tastes," he says, "but basically I go back to things I learned as a kid when I actually practiced—I butcher a bit of Mozart and Chopin."

His "wife-to-be": She's Hannah Bagshawe, they've been together a couple of years, though he couldn't find any way to check her ring size before he proposed—other than waiting until "the middle of the night, taking her hand, and putting her finger next to my finger."
Gah! That story about the ring size got to me. As did Eddie's final act of the interview, which was to ask the journalist politely when she was going to write the article and "Do you know what it's going to be? As in. . .? Because normally it's just like a little thingy. Is it bigger than that?" Aw. He wanted to know if he was going to get a bigger write-up in Vogue. Most actors wouldn't even bother asking. Okay, okay… he's a sweetheart. I should pay more attention to him. Honk if you want more Redmayne coverage!! The problem is that while he's very sweet and he just seems like the nicest guy ever, that's not really the best click-bait you know? Say what you will about Benedict's otter realness, but it brings all the Cumberbitches to the yard.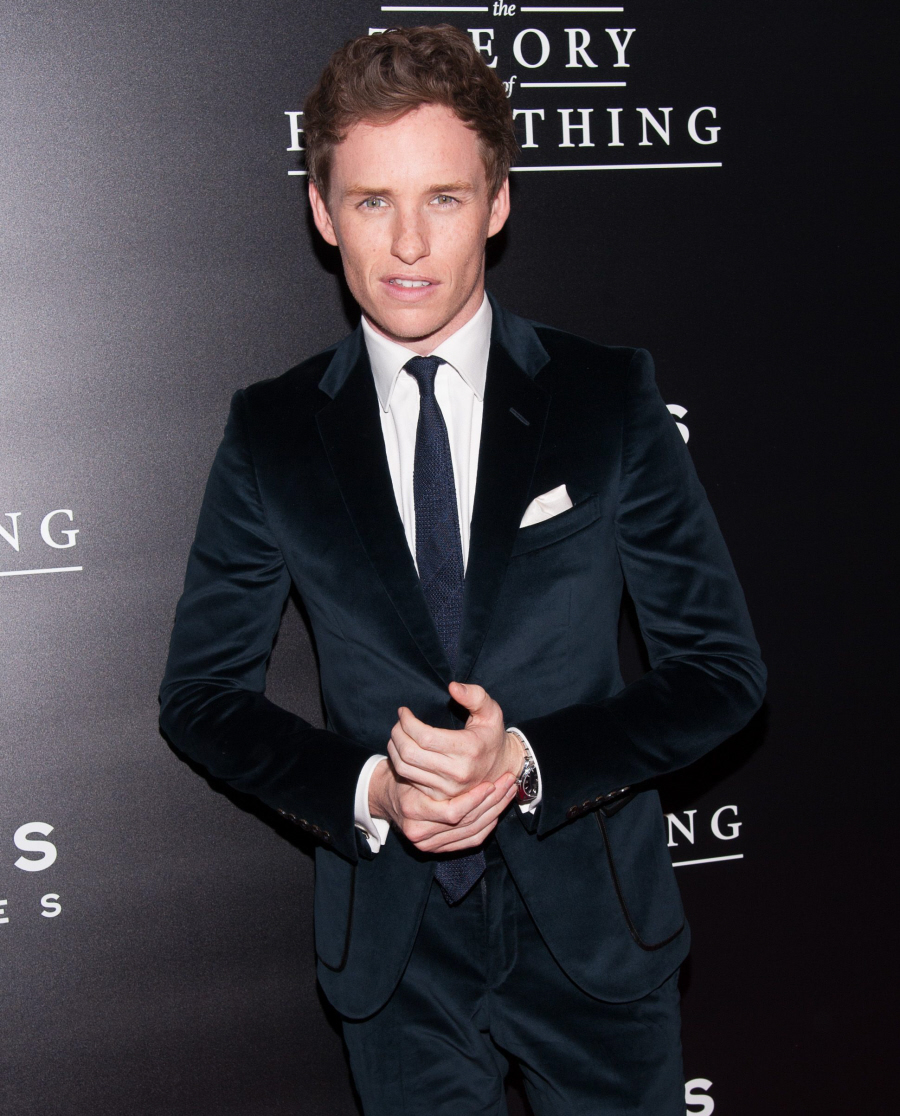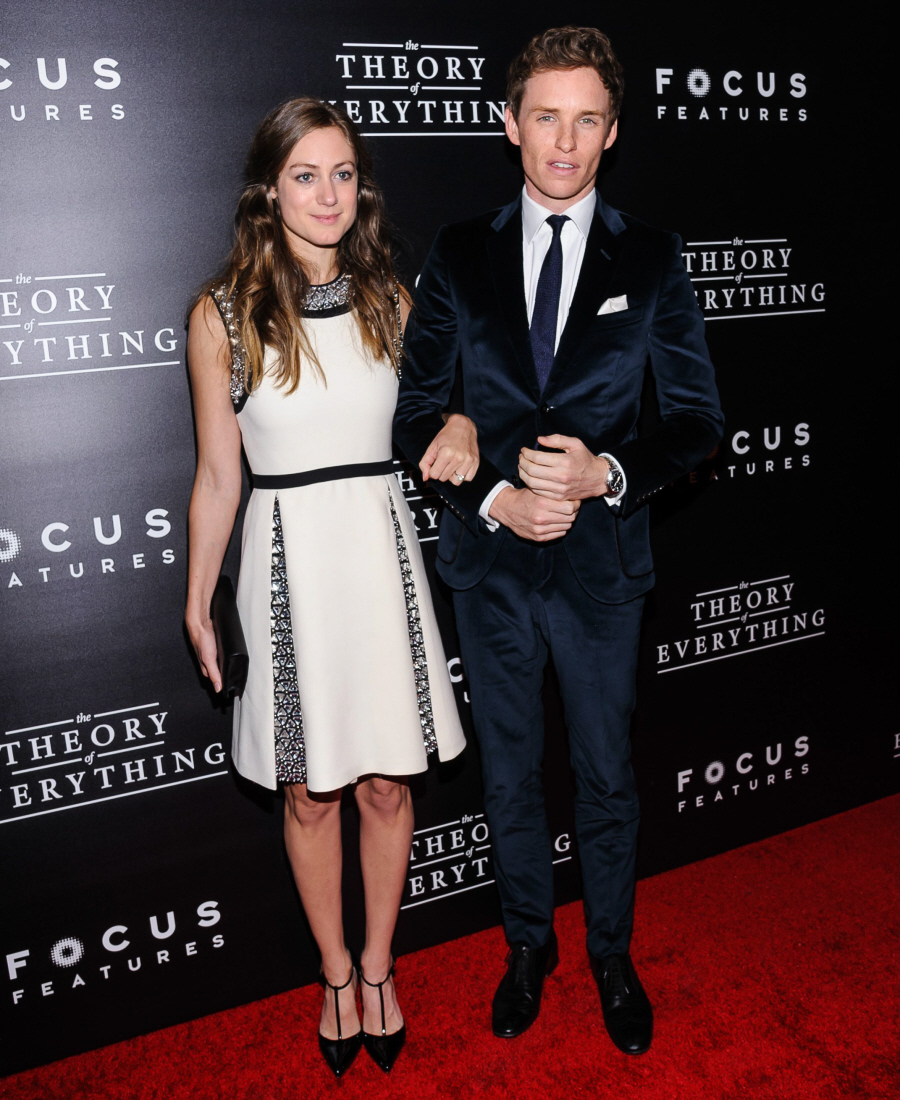 Photos courtesy of David Sims/VOGUE and WENN.
See the original post:
Eddie Redmayne has an adorable story about figuring out his fiancée's ring size