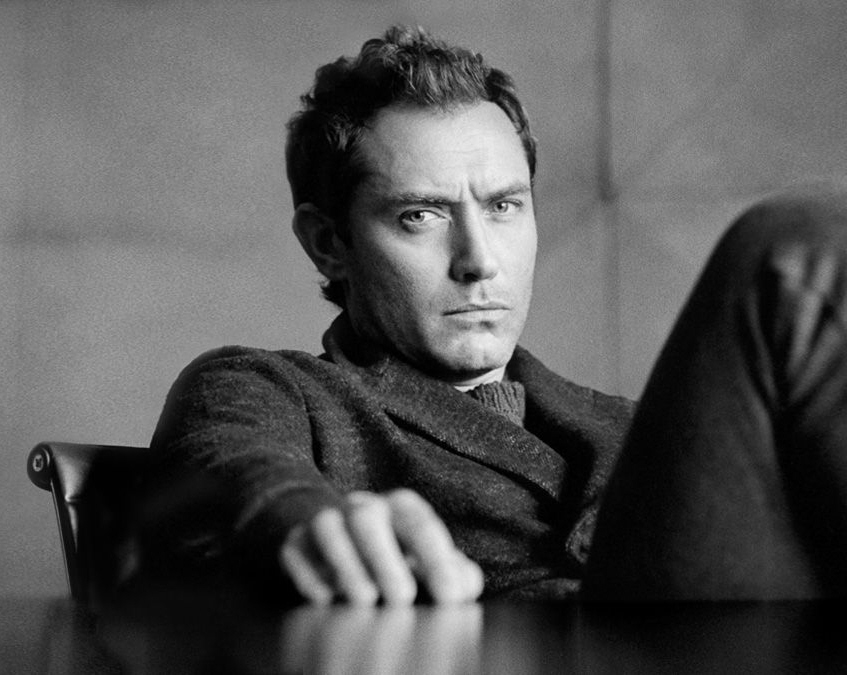 Just in case you forgot, Jude Law is a very attractive man. These Mr. Porter photos are so old-school Jude! He looks so beautiful. So beautiful that I temporarily forgot that he's expecting his fifth child by his third baby-mama, a 23-year-old singer-type named Catherine Harding. Catherine and Jude are no longer together. So, he basically got one of his hookups pregnant and he's trying to make the best out of it. As for this Mr. Porter thing… Jude is promoting his new film, Black Sea. Jude plays "a laid-off submarine captain who goes in hunt of a sunken ship rumoured to be laden with Nazi gold." Which might cause some people to wonder: is Jude poor? And the answer is yes. He's paying child support to two women and he's about to pay child support to a third. He IS poor. He will work in whatever he can get. You can read the full Mr. Porter article here. Some highlights:
His role in Black Sea: "It required a certain gravitas. It's not something I could have done in my twenties or thirties. Having recently turned 40, I feel that I'm only just reaching the stage where I can do this sort of thing justice."

He has looked forward to aging all his life: "I tend to think of it in terms of Shakespeare. You can't play Prospero in your twenties. And you can't play Lear. In your twenties, you play Romeo, you play Hamlet. And maybe you progress to Coriolanus, to Henry V. They're like hoops you have to jump through. Keep going, and you'll get to Prospero, you'll get to Lear. But you can't rush it."

Acknowledging that women have it harder in Hollywood: "The plight of women over a certain age is a bit of a running gag in the movie industry. Not a very funny one, admittedly."

The tabloid press: "I no longer let that stuff in. I honestly don't know and don't care what's being written about me. If people want to buy into it, then they can. I just try to live a normal life now. It's my right. Being free to go out – to a restaurant, to the theatre, or even just to a gardening centre – is my right. That's what living is. So that's what I do."
I agree that Jude has grown into what he always wanted to be: a brilliant character actor. People always treated him like he should just be a solid leading man, but Jude wanted different things for his career, and I respect that. I'm glad he's not clinging to his pretty-boy vibe from two decades ago. And he's right, the parts for him only get better as he gets older. And it's not the same for women. As for the tabloid press stuff… I think that's a smart decision for Jude in particular, to simply not participate in it. Don't get mad, just ignore it. And he'll have to do a lot of ignoring if he keeps knocking up his hookups!
PS… I have a thing about great profiles and Jude has an amazing profile! He's right up there were Angelina Jolie's profile.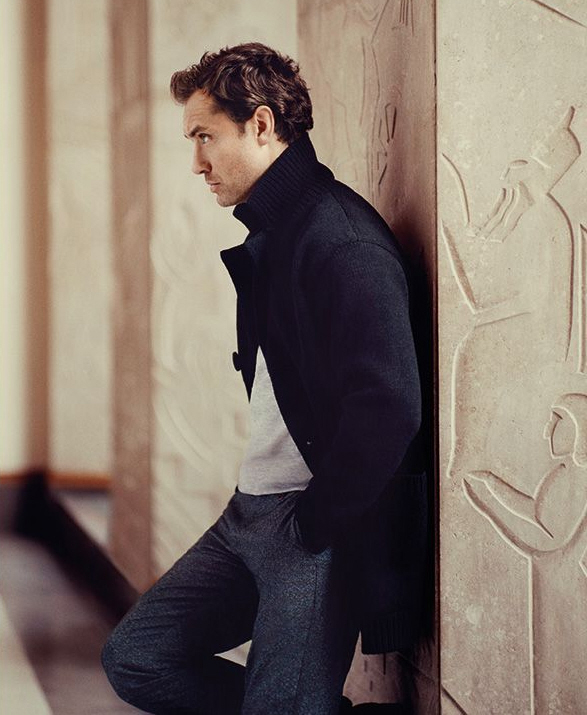 Photos courtesy of Tom Craig/Mr. Porter.
View post:
Jude Law looks lovely in Mr. Porter, talks about aging & the tabloids