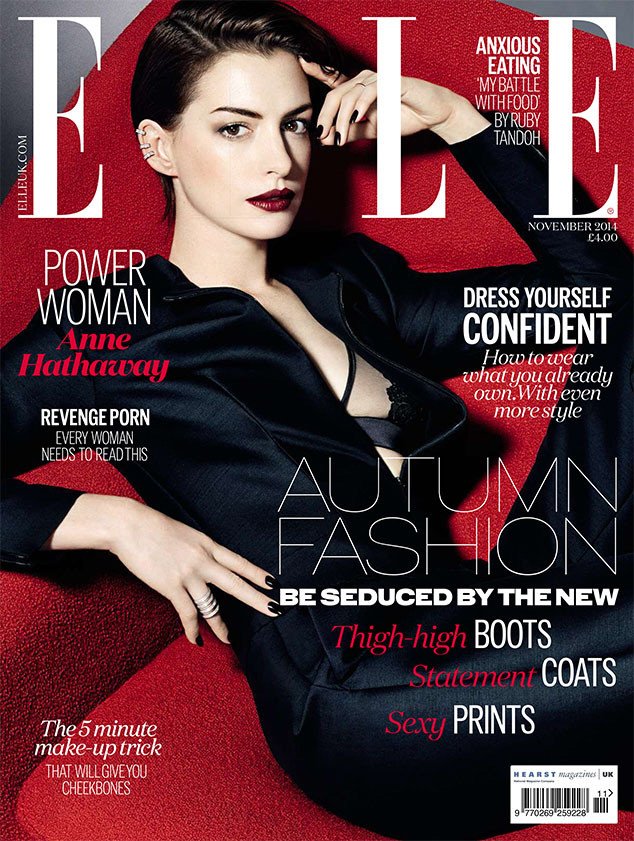 Anne Hathaway covers the November issue of Elle UK. I actually can't remember the last time Annie did a major magazine cover/interview. It's been more than a year, I'm quite sure. I think maybe the last time was during her January/February 2013 Oscar campaign? According to our records, yes – she covered the February 2013 issue of Harper's Bazaar. It helps nowadays that Annie A) has something big to promote (Interstellar) and B) she's given all us a big break from the Hathamadness. For the record, I've always been a Hathaway Apologist. Even when she was annoying, I still enjoyed her. Speaking of those old "annoying Annie" days, Annie spoke to Elle about how fame really messed with her head:
What she's learned: "The thing I've learned this past year is to chill out. I think when you're young and struggling to find yourself, there's something alluring about the idea of being tortured. Life for me these days is a lot about letting the unknown be wonderful, and letting myself feel safe."

Marrying Adam Shulman: "The first year of my marriage was insane. So much happened so fast, and we didn't get to focus on just being married until about a year in. So now, it's just about letting myself feel safe. There was a part of me that I was keeping in reserve, and when I got married, something shifted…That question of, 'How long's this gonna last?' is off the table. And when you're not worried about that, there's space to just be silly."

Fame: "This fame thing? F–ked me up for a really long time. I didn't know how to do it; I didn't know how to engage with it; it stressed me out. And people would say, 'You just have to be yourself,' and I was like, 'But I don't know who that is yet!'"

Working with Matthew McConaughey: "The man speaks in poetry. I remember once while we were filming, something got screwed up, and he said to me: 'Look, we can get upset about this, or we can go with it and have a great story for the rest of our lives.'"

Annie doesn't need your validation: "I've realized that don't need validation from anybody. At all. I'm not sitting here now worrying, 'What do you think of me?' With all due respect, you seem like a lovely lady, but I don't need you, or anyone else, to like me. And that's so liberating. It's a big reveal, man."
Dear Annie: bulls—t!! "I don't need you, or anyone else, to like me." That's not really who you are, Anne. I'm not saying I know Anne Hathaway or her innermost needs and desires, but she's always struck me as a capable, professional but neurotic woman with something of a diva streak. She doesn't NEED people to like her, and she's perfectly capable of understanding that logically and rationally. But in practice… she's still the same needy, neurotic, LOOK AT ME person she always was. Remember, this is the woman who flashed her biscuit as part of her Oscar campaign. NEVER FORGET!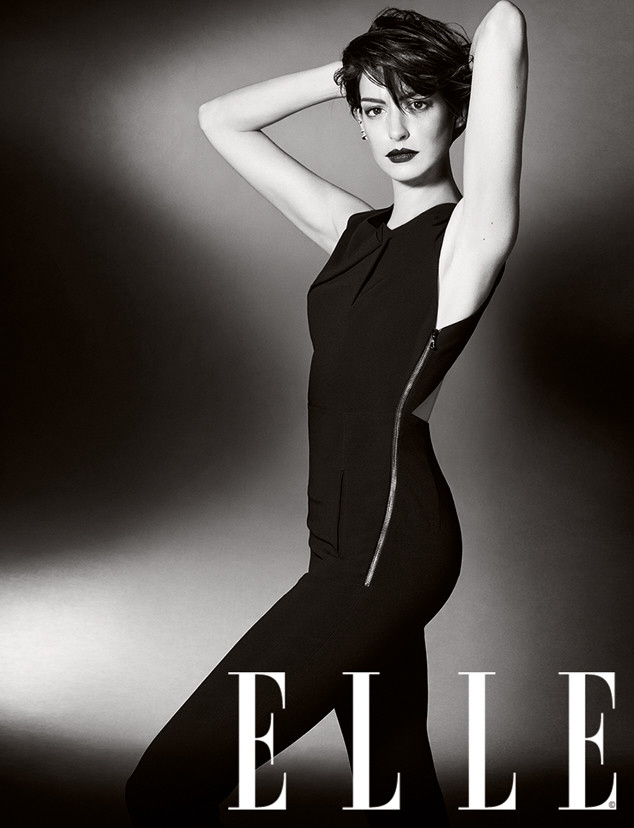 Photos courtesy of Kai Z Feng/ELLE UK.
Read the rest here:
Anne Hathaway: 'I've realized that don't need validation from anybody. At all.'