Kourtney Kardashian: Pregnant… and Alone?!?
It's the Kardashians' tabloid world, folks. We're merely living in it. This week alone…
Now, In Touch Weekly has terrible news for Kourtney Kardashian: she is both pregnant with her second child.. and alone!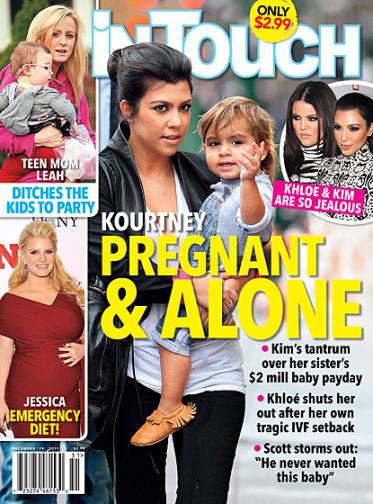 Where did that jerk Scott Disick go now?!? For more on Kourtney's pregnancy, watch this edition of The THG Pulse.
This entry was posted by on December 9, 2011 at 8:36 pm, and is filed under Advertising, Babies, Bikini, Bikini Photos, Celebrity Hairstyles, Celebrity of the Year, Celebrity Scandals, Facebook, Farrah Abraham, Fashion, Hair, Khloe Kardashian, Kim Kardashian, Kourtney Kardashian, Kris Humphries, Movies, News, Photos, Pictures, Pregnancy, Pregnant, Racist, Reggie Bush, Rick Perry, Rod Blagojevich, Scandals, Scott Disick, Selena Gomez, Tabloid Covers, Taylor Armstrong, The Bachelor, TV, Twitter, Various, Weddings. Follow any responses to this post through RSS 2.0.You can leave a response or trackback from your own site.
Facebook Comments