Frankie Muniz and Elycia Turnbow: Engaged!
Frankie Muniz and Elycia Turnbow are engaged. The actor popped the question to his longtime girlfriend, who's also his publicist, over the weekend.
"After four years together, I'm just so happy to be ENGAGED to the love of my life @ElyciaMarie!!!" the former Malcolm in the Middle star, 25, Tweeted.
"It's official… I'm engaged!" Turnbow also Tweeted Saturday.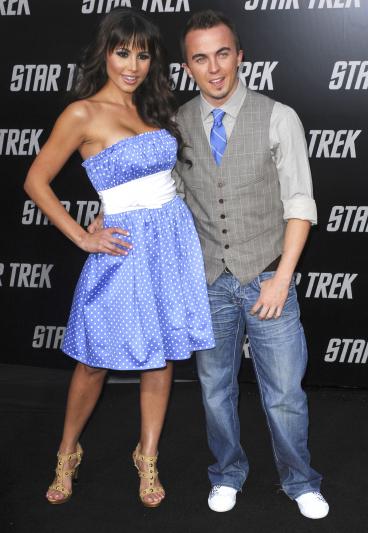 The couple have apparently reconciled after going through a rough patch.
Earlier this year, police were called to their home in Phoenix in February to investigate an incident in which, allegedly Muniz punched and pulled a gun on Turnbow.
There was even a 911 call placed during the domestic melee.
"Neither one is interested in finger-pointing at the other," Muniz's rep said at the time. "It was a situation that escalated beyond a point that it needed to be … If anything, they will look back at this as a learning opportunity."
Apparently a good one. Congrats to the engaged pair!
[Photo: WENN.com]
View post:
Frankie Muniz and Elycia Turnbow: Engaged!
This entry was posted by on October 25, 2011 at 10:40 am, and is filed under Adam Lambert, Adrienne Maloof, Advertising, American Idol, Ashton Kutcher, Babies, Bikini, Bikini Photos, Britney Spears, Casey Anthony, Cate Edwards, Celebrities, Celebrity Hairstyles, Celebrity Scandals, Celebrity Weddings, Charlie Sheen, Cher, Courtney Stodden, cute, Dancing with the Stars, DeAnna Pappas, Demi Lovato, Facebook, Fashion, Frankie Muniz, Hair, Josh Krajcik, Justin Bieber, Kim Kardashian, Lady Gaga, Liam Hemsworth, Lindsay Lohan, Melanie Amaro, Miley Cyrus, Movies, News, Photos, Pictures, Real Housewives, Rihanna, Robert Pattinson, Scandals, Scotty McCreery, Selena Gomez, Sexy, Tara Reid, Taylor Swift, TV, Twitter, Usher, Various, Weddings. Follow any responses to this post through RSS 2.0.You can leave a response or trackback from your own site.
Facebook Comments