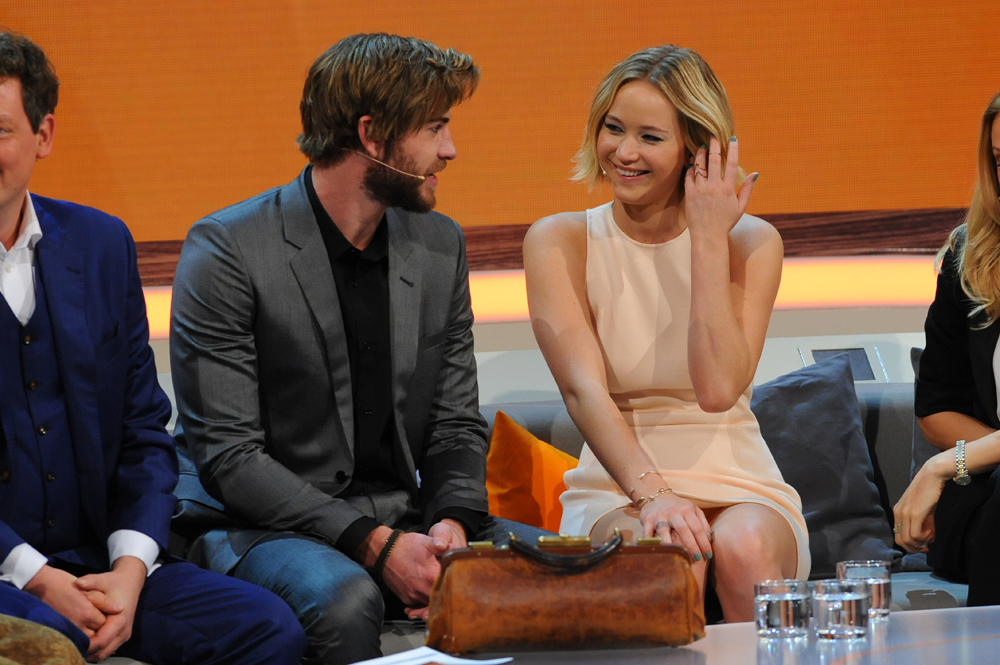 If you feel the way I do about the possibility of Jennifer Lawrence and Liam Hemsworth as a couple, then you laughed at the title of this post. I watched Mockingjay: Part I last Friday, and I didn't like it nearly as much as the other two Hunger Games movies. To me, it was a "placeholder" movie. I also couldn't believe that JLaw and Liam's romantic vibing had grown worse since the last movie. I laughed out loud when Gale walked into Katniss' old kitchen and said, "This is where you kissed me … I'd have to be dead to forget that." And then came the least romantic consensual kiss in the entire universe.
These two have never had chemistry together, right? I've never seen it. Even when they're joking around during interviews, JLaw has always interacted far more with Josh Hutcherson. I'll humor this story anyway. I find it amusing because it fits into the narrative of Chris Martin being stuck on Goop. He helped her open her Dallas pop-up store last week, which doesn't sound like conscious uncoupling to me. He even let himself be photographed there, which is saying something.
The source of this new JLaw info — Heat magazine (via The Independent) — isn't the most reliable. Supposedly, Jennifer and Liam grew closer during the Mockingjay: Part I tour. They've known each other for at least four years, but now is the time, y'all. Why? Because Liam is single, and Jennifer is upset about the ongoing Chris-Goop drama. Uh-huh:
Jennifer Lawrence and Liam Hemsworth are reportedly ready to see where "fate takes them."

"They intend on keeping things very low-key so they can both see where fate takes them," an insider told Heat magazine.

Liam split from his fiancée Miley Cyrus last year and recently admitted Jennifer helped get him through that because she is so fun to be around and helped him live in the moment.

"They've always had insane chemistry, but they've never been single at the same time before. In fact, when they first met on the set of The Hunger Games, Liam's then-fiancé Miley Cyrus flew out, possibly to keep an eye on them, I think, because she was jealous," the insider said. "Jen and Liam have been friends for years and she's always confided in him about the drama in her love life. She's really leaned on him during all the drama with Chris [Martin]."

Even before promotional duties the pair have apparently been spending time together. Jennifer reportedly invited Liam to see her in Los Angeles so they could go over strategy for their media tour, but it led to a more personal conversation.

"Jen started pouring her heart out about Chris and things got personal. Liam knows Jen loves koala bears so, the next day, he had an enormous stuffed toy koala sent to Jen with a note saying, 'Hold out for the perfect man,'" the source explained.

Although the signs are good, both the stars want to take things slowly. As they've both been burnt in the past they are in no hurry to jump straight in to a full-on romance. If they do it's thought things could go well though, as they both prefer to fly under the radar rather than have their love life splashed around headlines.
[From The Independent]
Well, okay. I might believe there was something to this story because JLaw and Liam were both (maybe?) single for the first time during a press tour. Who knows. It's been two weeks since somebody's rep told People how Martin Lawrence is "still very much together." The important thing to remember is that JLaw and Liam have absolutely no chemistry together. Zero. Am I wrong?
FYI: Jennifer confirmed Liam's claim that she ate gross things before kissing him on set. She told Nylon that she'd often eat "a sandwich with mustard and raw red onion" before they locked lips as Katniss and Gale. JLaw also said Liam is "my best friend." I think Jennifer has a lot of best friends. I've heard of at least five at this point, which is fine. These two are probably not hitting it. JLaw should get with someone far more exciting than faux-Thor.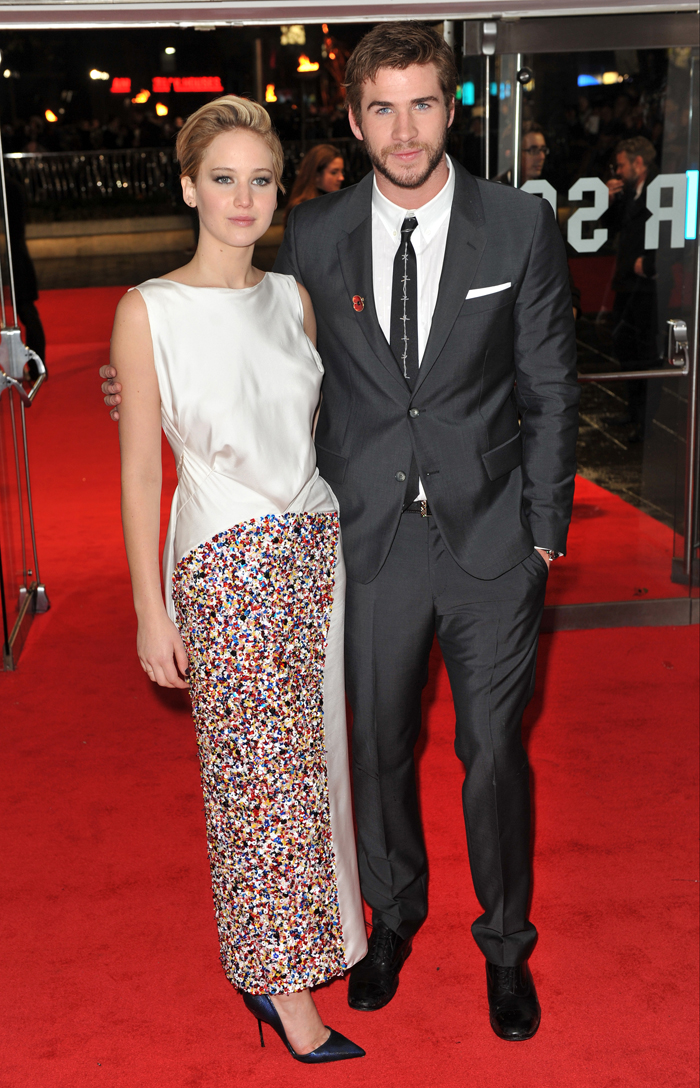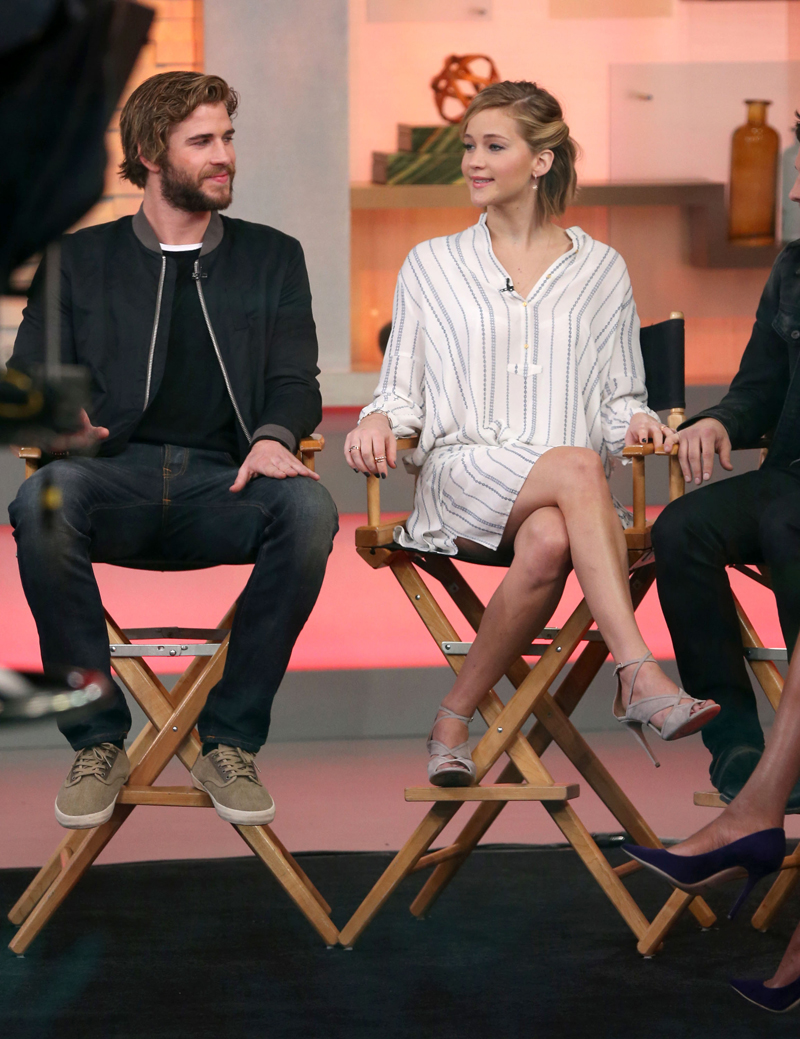 Photos courtesy of Fame/Flynet & WENN
Follow this link:
Are Jennifer Lawrence & Liam Hemsworth acting on their 'insane chemistry'?