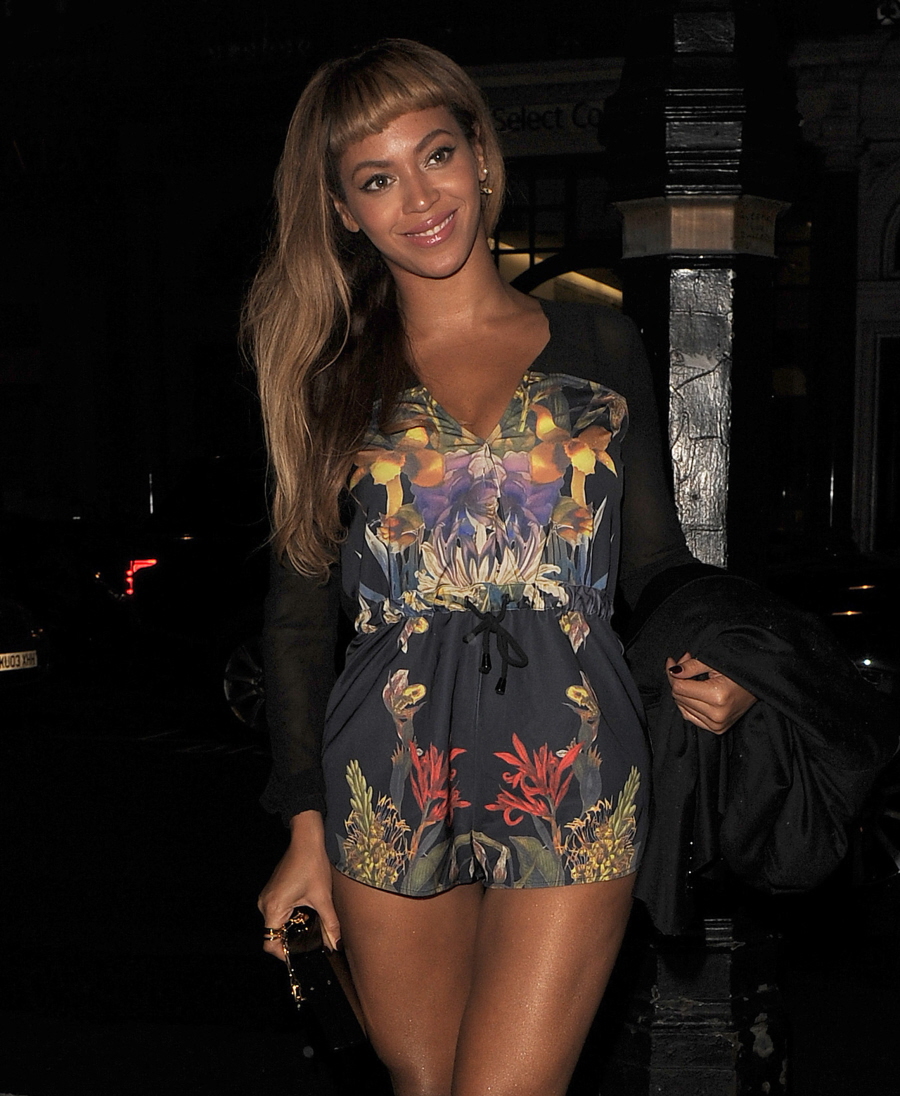 I'm enjoying the fact that Beyonce is really trying to convince people that she really has bangs these days. Like, she heard that most of us were like "Eh, give it a week and she'll have a completely new hairstyle," and she took that as a Bangs Challenge. These are photos of Beyonce, Jay-Z and Adele out to dinner at Harry's Bar in London on Friday night. Adele wore her most comfortable poncho, leggings and flats. Meanwhile, Beyonce wore a peasant blouse and heels and that's about it. I can't tell if she has anything on under that very short blouse. She must, right? Like, booty shorts or something.
Beyonce and Adele have been friends/friendly for years now. Adele has gone to Beyonce's shows in London and they occasionally meet up for dinner or drinks every so often. I'd like to think that Beyonce appreciates the fact that Adele is off doing her own thing and it's not a competition. Adele is pretty funny too, and she seems like a fun person to party with. I can only imagine what Adele thought of the bangs.
In other Bey-news, Page Six says that Bey and Jay are getting all kinds of arty up in here.
After checking out Paris' Louvre, Jay Z and Beyoncé headed to London to shop at the Frieze art fair. Jeanne Greenberg-Rohatyn of New York's Salon 94 gallery was seen squiring the hip-hop royals around town, including a stop at the London outpost of New York gallery David Zwirner, where Jay and Bey were led on a private tour by artist Kerry James Marshall of his work.

They were also spotted at sculptor Anish Kapoor's studio and gallery White Cube — which sold a Damien Hirst shark at the fair for $6.5 million — where they viewed works by David Hammons. During Frieze, which wrapped on Saturday, Greenberg-Rohatyn also hosted rapper A$AP Rocky, Brooklyn artist KAWS, auctioneer Simon de Pury and others for lunch aboard a barge.

The boat trip was the brainchild of Michèle Lamy, the wife and muse of designer Rick Owens. Meanwhile, a 7-foot KAWS sculpture sold for $300,000 at Galerie Perrotin's booth at the fair, where up to $2.2 billion in work was up for grabs. Salon 94's booth had art with a smiley face theme.
I would love to know if Bey and Jay are buying and what they're buying. We know they have more money than God at this point and I'd be interested in discovering if they, like, exclusively purchased modern art or whatever. Do they own any Banksy?
PS… Beyonce's bodyguard is HOT.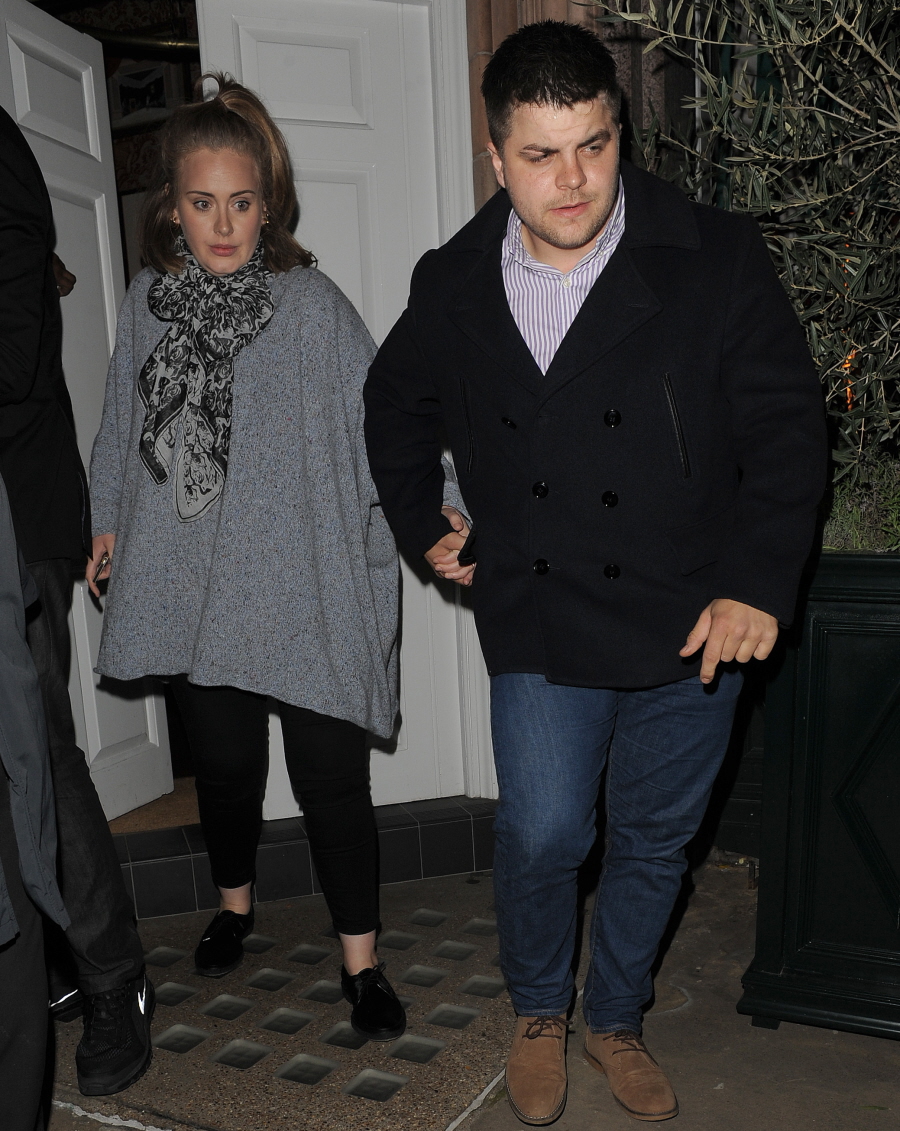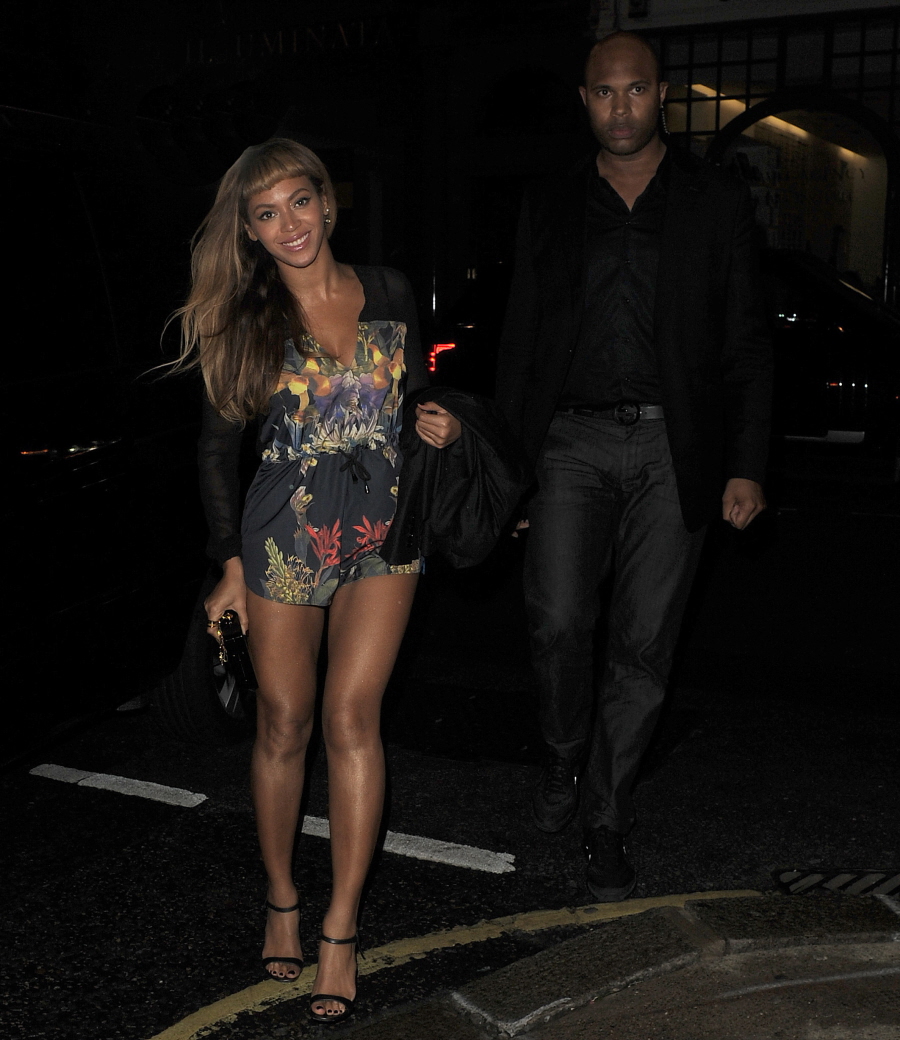 Photos courtesy of WENN.
See the article here:
Beyonce & Jay-Z went out to dinner with Adele, Beyonce forgot her pants