Anne Hathaway as Catwoman: New Pic!
Anne Hathaway was spotted once again in her controversial catsuit on the set of The Dark Knight Rises. Complain all you want, it looks good on her!
The Academy Award nominee was shot this past weekend in her frisky costume, standing beside the always very serious Gary Oldman as Jim Gordon.
Take a look at the latest image of Hathaway as Catwoman below: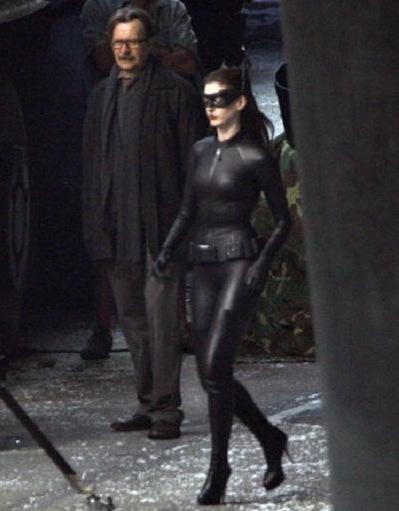 Christopher Nolan's latest Batman opus hits theaters in July of 2012, but each week seems to bring new teases of what the epic picture will be like.
Very little is known about the storyline, but Tom Hardy is the villain Bain, Christian Bale is back as the Bat, Joseph Gordon-Levitt (Inception) is also on board and Oldman, Morgan Freeman and Michael Caine are all reprising their roles.
Add in a very fetching cat and we can't wait until summer!
[Photo: Fame Pictures]
Read more here:
Anne Hathaway as Catwoman: New Pic!
This entry was posted by on September 27, 2011 at 1:41 pm, and is filed under actress, Advertising, Anne Hathaway, Babies, Bikini, Bikini Photos, Celebrity Hairstyles, Celebrity Scandals, Chris Brown, Christian Bale, Dancing with the Stars, Facebook, Fashion, Gary Oldman, Glee, Hair, Herman Cain, James Franco, Morgan Freeman, Movie News, Movies, Nancy Grace, News, Photos, Pictures, Real Housewives, Scandals, Taylor Lautner, The Dark Knight Rises, Tom Hardy, Trailer, TV, Twitter, Various, Weddings. Follow any responses to this post through RSS 2.0.You can leave a response or trackback from your own site.
Facebook Comments