Ann Curry cries on her final day on 'Today', she'll still work for NBC News
The Firing of Ann Curry has come to its logical end, with Ann given a chance to say goodbye to viewers this morning, live on air. TMZ claimed that NBC was hellbent on getting Ann off the air by Friday, and it looks like Ann and NBC were able to work out a deal late last night. Ann gave a pre-interview to USA Today before her goodbye – it's a very sympathetic piece, a lengthy piece in which Curry is given a chance to defend herself and discuss in vague terms what her new relationship will be with NBC. You see, she's not really leaving, like sources claimed she wanted to leave completely with a $20 million golden parachute. Curry and NBC worked out a deal where (I think) she got a fraction of that, plus a job "leading a seven-person unit with a ticket to cover the world's biggest stories, from the civil uprising in Syria to the plight of the poor in America. She'll produce network specials and pieces for NBC Nightly News, Dateline, Rock Center— and Today— and she'll occasionally fill in as anchor on Nightly News and elsewhere."
Curry also told USA Today that she doesn't know "who has been behind the leaks, but no question they've hurt deeply." She talks a lot about how she wasn't given a chance to "work out the kinks" as co-anchor and she wished she had more time. You can read the full USA Today piece here.
Then, this morning Curry said goodbye on Today. She was very emotional, and I did end up feeling sorry for her. It sucks that everything played out so publicly, and it sucks that her reputation has taken such a hit – although, to be fair to NBC, her reputation was taking hits every day she was on the air as co-anchor. Here's the video and some highlights:
Visit msnbc.com for breaking news, world news, and news about the economy
Ann Curry will no longer co-host the Today show – effective immediately.

"This is not easy to say," a choked-up Curry, 55, announced on Thursday's show, as her costars sat on the sofa next to her. She said Thursday would be her last day as a regular on the show, but "I will still be part of the Today show family, in a different role."

She said she has been "given a fancy new title" and will roam the globe for NBC, reporting the news.

With tears in her eyes, she expressed her gratitude and love for the viewers and the behind-the-scenes staff, and said, "To those of you who saw me as a groundbreaker, I am sorry that could not carry the ball across the finish line – but, man, did I try. I will keep trying and I'm so sorry I turned into a sob sister this morning. I am so grateful especially to all of you who watch," she said. "We often call ourselves a family but you are the real Today show family. I have loved you and I have wanted to give you the world and I still do."

Curry's announcement comes after several days of news stories tracking the behind-the-scenes machinations of her departure. These have included unconfirmed reports that she will be succeeded by Savannah Guthrie, who currently is the show's legal analyst and 9 a.m. anchor.

Curry assumed the co-anchor seat next to Matt Lauer, 54, slightly more than a year ago, when Meredith Vieira tended her resignation, for personal reasons. Since Vieira's departure, Today ratings have slipped, and recently have been either neck-and-neck or even trailing those of ABC rival Good Morning America.

Ann Curry said goodbye to "Today" today — hours after her lawyer negotiated her exit from the show — sobbing as she told viewers, "I'm sorry I couldn't carry the ball over the finish line, but man did I try."
So, it's over. Everyone says Savannah got the gig and TMZ claims that Natalie Morales is fine with it, and she'll be staying on too. Such a wicked web that Matt Lauer weaves… but NBC values him, and Lauer gets to write his own ticket. It's always been said that Lauer renegotiated his contract several months ago with the provision that Curry would definitely have to go – so I find it particularly cold that he could sit there, beside a weeping Curry, acting like he was so sorry that she was put in this position. SO GLIB.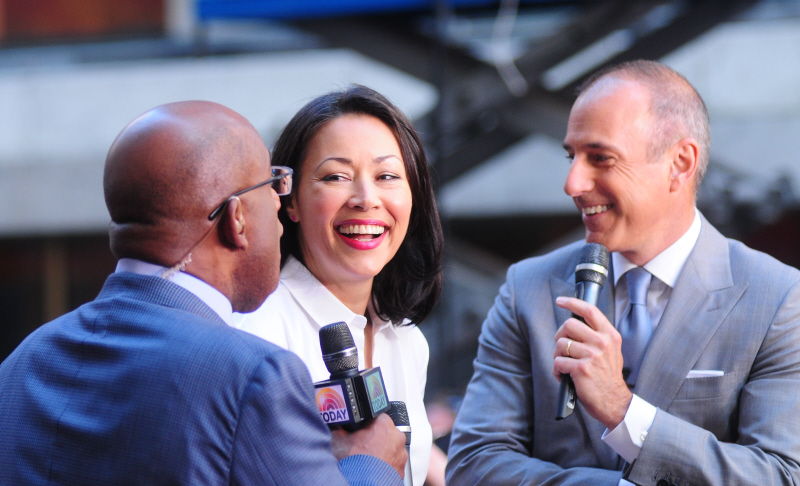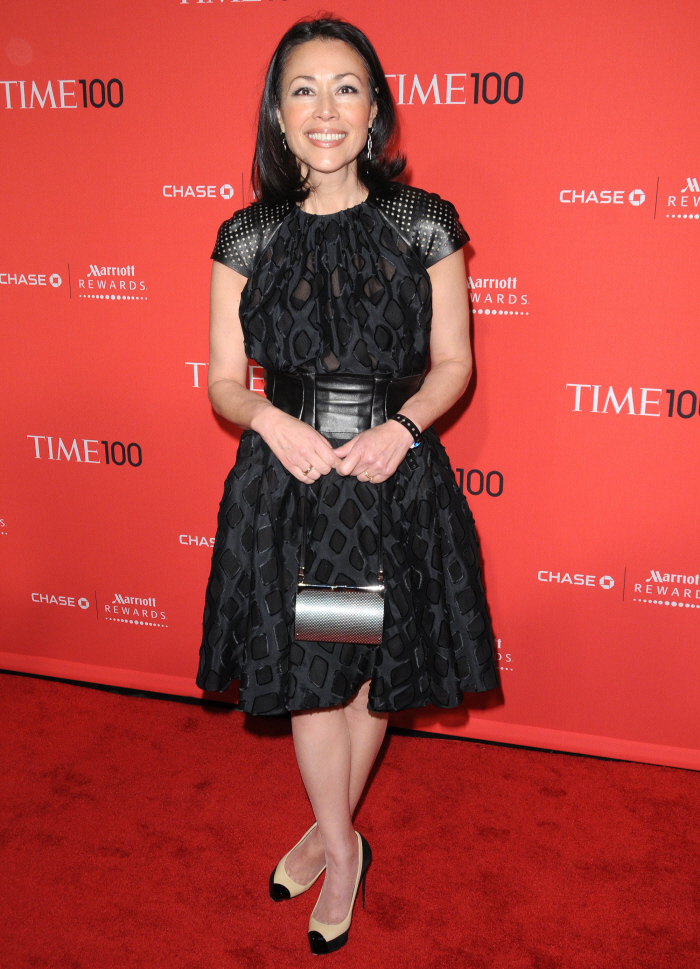 Photos courtesy of WENN.
See more here:
Ann Curry cries on her final day on 'Today', she'll still work for NBC News
Facebook Comments